By Gary Miller
Wadley, GA—Cooper Machine Company Inc. began over 45 years ago as a general machine and fabrication shop, involved in mostly mill repair and renovations. Over the years, the company also manufactured lift trucks and log and lowboy trailers, and was even a dealer for skidders and loaders at one point. But as the sawmill side of the business grew, the company decided to strictly focus on being a custom sawmill equipment manufacturer and distributor and has grown into a company with a reputation for providing hard working equipment that lasts.
"Cooper Machine was established in 1965 by my grandparents, H.M. 'Billy' Cooper and his wife Mary," Chief Operating Officer Frances Cooper explained. "My grandfather was working at Fulghum at the time when he and Mary decided to start Cooper Machine. My father, Robert Cooper, and his older brother, Bill Cooper, both grew up in the business."
While Billy Cooper was in the middle of a mill renovation and repair project, he conceived the idea for what has become known in the industry as the Overhead End Dogging Scrag mill. Cooper Machine's first Overhead Scrag mill was sold in 1972 to Battle Lumber Company. Demonstrating its value immediately, the Overhead End Dogging Scrag mill set Cooper Machine on the path to becoming a leader in the sawmill equipment manufacturing and design industry.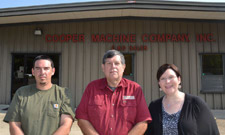 Current Owner and President Robert Cooper (middle) is proud that his children, Frances (right) and Andrew (left) are a part of the family business.

At the time of Billy Cooper's passing in 1995, Bill and Robert had already taken over the reins of the business. In 2008, Bill retired and Robert took control. Until recent health issues prevented her from doing so, Mary continued to come into the office every day.

Robert explained, "Within the last six years, two of my children (Frances and Andrew Cooper) have come back to work here, and I am proud of what they have been able to contribute. I can't brag on them enough. It's good to have family members who have the same work ethic and pride in the business that I have, but Cooper Machine is fortunate to have a number of employees who have worked here a long time and understand the importance of what we do."

Bryan Watkins has been with the company for 21 years. "Bryan, Andrew and I all get involved with technical support," Robert said. "If there's a problem with our equipment, we will go in person if necessary to fix it, but often we can talk to the mill staff over the phone and walk them through it, and, they can usually fix the problem themselves. Bryan also designs schematics for our machinery."

"Robert will come up with a new idea concerning our sawmill machinery, and we'll go back and forth with it," Bryan said. "We'll work on it and draw it out, see what works and what doesn't. Then we change it and fix it where we're satisfied with it."

While Frances and Robert work in sales, Robert said a large majority of the firm's sales are sold by their customers. "Our customers really are our best salesmen. They don't mind people calling them and asking questions and they tell them exactly what our machinery does and how it will benefit them. When a prospective client talks to a customer they have no reason to tell them anything but the truth, it works out a lot better for everyone involved."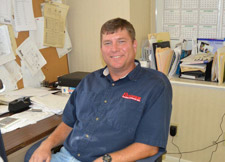 Bryan Watkins has been with Cooper Machine for 21 years. His responsibilities include technical support and designing schematics.

Frances added, "We also do our best to go above and beyond what we need to do for our customers. We want our customers to feel like we are all on one team and we are doing our best to provide quality equipment at a fair price with great service to make it easier for them to make a profit."

"We have an excellent parts department," Robert continued. "About 80 percent of our sales are repeat customers, mills buying new equipment or different parts for their existing machinery. We get complimented a lot on our service and parts. We do our best to keep the most frequently ordered parts in stock and can generally ship the part the same day. Within the last few months, there have been some changes in the office. David Cooper left, and now Zach Sherrod is parts manager and Paul Carroll is purchasing manager, but they do a great job of working together to make sure the customer gets what they need."

"As for what we build, the most popular machine is the Overhead Scrag," Frances offered. "Our newest model has skewing log turners and other upgrades that allow you to get even more production and better yield out of each log than before."

Today, in addition to the Standard and Skewing Overhead, Cooper Machine manufactures sharp chain scrags, edgers, slat tables, trimmers, gang saws, stacking equipment, and roll cases, decks and troughs. It sells band saws, carriages and board stackers made by MIT in Santiago, Chile, and Incomac Dry Kilns made in Treviso, Italy. Cooper Machine also works with other sawmill machinery companies in the U.S. such as Metal Detectors Inc., Precision Husky, and Nicholson.

"Sometimes we get a project where the customer wants 3-D scanning," Frances explained "We don't manufacture a 3-D scanning system. We manufacture a simpler control system using ultrasound and X/Y scanning. In the past, we've worked mainly with Lewis Controls, but recently we have also developed a relationship with USNR to use their scanners with our control system. Every customer is different. You will have some customers that don't want that sophisticated of a system and you will have others that need a top of the line laser scanner. Working together with these companies allows us to offer both."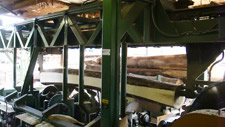 The company's newest model of the Overhead Scrag includes skewing log turners and other upgrades that allow better yield from the log.

Cooper Machine is located on four acres with a 360 x 200-square-foot facility. "We have 10 five-ton bridge cranes, one 10-ton bridge crane and four three-ton bridge cranes in our machine shop," Robert explained, "So we can manufacture our different machinery for making different wood products such as cross ties, mat timbers, grade lumber, and pallet stock with cranes inside our building without having to go outside. We make our own equipment and can load about 30 tons on a trailer inside our shop."

Everything built at Cooper Machine gets tested before it is shipped to make sure the customer is getting a piece of equipment that is ready to start up when it arrives.

As for the future of Cooper Machine, Robert commented, "We're always trying to get better at what we do. We listen to our customers. Most of the time when we come up with a new idea it's because a customer calls us and says, 'Can you do this?' They trust us enough to give us an idea of what they want in their sawmill machinery, and often we can come up with a solution for what type of machinery they need us to build for them. It's not just necessary that we built something that much better or that much different than someone else, but most of the time we can come up with the idea and do it affordably."

As president and owner, Robert gets involved with many aspects of the business including product development and computer system operations. "I like the hands on approach. That's how we continue to improve our machines every time we build one. I had a fellow tell me many years ago that it's not what you know, it's what you see and remember over the years. You might see something that's not even related to your field that you can put in an application that works really well in something that you're fixing to build as a result. That's our philosophy here—to make something better. We want to build it better next time."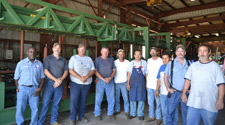 Cooper Machine has a number of long-time employees. Pictured are (L to R): Earl Lowery, Daniel Sherrod, Barry Canady, Bubba Pollett, Tim Cox, Pedro Perez, Terry Marsh, Jeronimo Fuentes, Richard Thompson and Keith Radford.

Cooper Machine Co. attends and exhibits at various industry trade shows such as the East Coast Sawmill and Logging Equipment Exposition, International Woodworking Fair and the Southern Forest Products Association's Forest Products Machinery & Equipment Expo. "The shows are a good place to visit with suppliers as well as customers," Robert said.

Cooper Machine has also recently started attending other association meetings such as the Hardwood Manufacturers Association and they will be exhibiting at the National Hardwood Lumber Association's meeting in October. For more information visit www.coopermachine.com.