Go For The Gold With Olympic Forest Products (pg 44)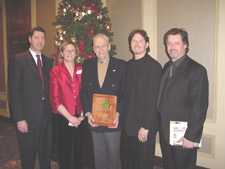 Robert Simon, Edna Perkons and John, father and founder, Paul and Steve Simon are the family behind Olympic Forest Products Inc. in Erin, Ont.
By Doug Knowles
Erin, Ont. - John Simon began his career in the lumber industry in Europe in the 1930s, and continued in the business upon moving to Canada in the 1950s. Two of his sons, Steven and Paul, followed John into the business in the late 1970s. Paul eventually started Olympic Forest Products in 1987. Today, this family operated business thrives on the values that John instilled in his children 20 years ago.
"We feel there are a number of key factors that have contributed to our longevity and success over the years," said Robert Simon, son of John and head of finance at the company. "Our quality and personal service — you are dealing with a member of the family, the president or vice president when you make a sales order. We also pride ourselves on good service and delivery and quality of our products. As well, our knowledge — with three generations, we have well over 100 years of combined lumber experience. It runs in our blood."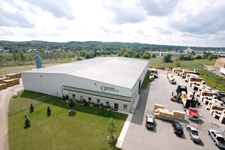 This aerial view shows the expanse of the operation, situated on 8 acres and including a 40,000-square-foot warehouse in Erin, Ont.
Along with Robert, his brothers Paul and Steve and sister Edna manage the operation, with Paul serving as president and Steve as vice president of sales, and Edna as office manager. John is still very active in the company and takes pride in what his company does, which is evident in his being named the Wholesale Lumber Dealer's Association lumberman of the year in 2005.
"We deal with reputable mills, supplying high quality products to ensure that our customers are getting the best possible material at the best possible prices," Paul said. "Over the years we have built many long-term relationships with both suppliers and customers."
Olympic Forest Products is situated north of Toronto, Ont., on eight acres of land purchased in 2000. Prior to that, the Simons had rented properties for their business in Concord and Milton, Ont. The firm moved into the Erin site in 2001, after constructing a 40,000-square-foot warehouse for loading and unloading, which helps to protect the products from severe weather. The facility is ideally located for the company to be able to ship across the country into British Columbia, and into the Midwestern United States.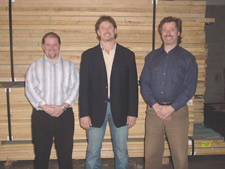 Darren Lindsay handles sales and purchasing in southwestern Ontario and the Midwest United States; Paul Simon is president of the firm; and Steve Simon is vice president of sales.
"We have access to all the major highways from this location, which gives us a strategic advantage," Robert explained. "We are able to ship across Ontario into eastern, western and northern areas of the province. As well, we are only one hour from the New York state border. We buy from the Northeastern United States, as well as Ontario and Quebec."
He continued to say that the primary market is Southern Ontario, but lately the firm has expanded its customer base to include British Columbia and the Northeastern and Midwestern United States.
According to Paul, the past two years have seen a number of expansions at Olympic to enhance both production and shipment capabilities.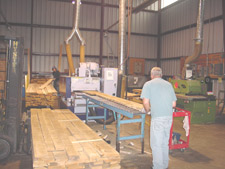 This planer at the company's facility manufactures 13,000 to 14,000 feet per day.
"In 2004, we purchased an International Transport Truck," he stated. "Earlier this year, we added a new truck—another 9900I International, and just six weeks ago, we took delivery of a new set of B-trains that are capable of hauling 26,000 feet of lumber."
This is in addition to the company's flatbed truck and 48-foot curtain side trailer, which can haul up to 20,000 board feet at a time.
Olympic Forest Products offers Oak, Hard and Soft Maple, Cherry, Ash, Aspen, Yellow and White Birch, Poplar and Walnut in thicknesses from 4/4 to 12/4. The firm also carries imported Hardwoods such as Mahogany and Banak, and softwood including eastern white pine. All combined, Olympic produces around 15 million board feet of lumber annually, stocking 2 million board feet of Hardwood and softwood lumber for off-the-shelf quick shipments in a variety of species, in all thicknesses and grades.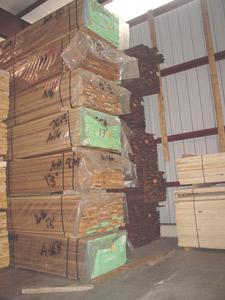 The firm's warehouse stores 2 million board feet of various Hardwoods and softwoods, including this 4/4 Banak from South America (foreground) and 4/4 steamed Walnut.
In addition to the above, the company also offers unfinished flooring in micro-bevel and square-edged, as well as pre-finished flooring in micro-bevel in an array of stains and colors. The grade range of flooring spans low grade for truck flooring to high-end for residential and commercial uses. The company also sells fingerjoint pine interior doorjambs, as well as casings, baseboards and D4S (dressed four sides) in both Hardwood and softwood.
The company has a planing line capable of manufacturing 13,000 to 14,000 feet of lumber per day and an Inber-Holz gang rip saw.
"This is so we are able to meet all of our customers' needs, whether they need it dressed two sides or dressed four sides," Paul explained. "We are capable of doing specified and custom mouldings to our customers' satisfaction."
The staff at Olympic, aside from the family, includes warehouse, office and sales staff. Darren Lindsay handles sales and purchases in the Midwest United States and Southwestern Ontario, and comes from a lumber family background. Recently, Rob McCulloch joined the sales team bringing experience in both Hardwood and plywood distribution to the company.
Looking to next year, Paul said Olympic Forest Products is planning to install a state-of-the-art grading line to further meet customer needs.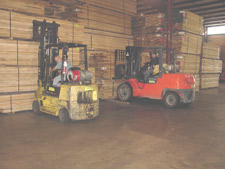 Olympic has several trucks and forklifts for moving lumber with ease around the operation.
"The grading chain that we will be installing is capable of half-inch increments so that our customers will be able to get as much yield as possible from each board, thereby helping to minimize their waste," he added.
Other plans in the works include manufacturing of squares ripped and cut to length by an optimizer and glued panels.
"As we've been dealing with a global economy in the past few years, we are certainly looking at expansion," Robert said. "We're considering a further expansion into Western Canada, as well as Eastern Canada, and particularly Quebec, where we are looking for a sales representative. We are also looking into increasing our presence in the United States. Recently, we have been in touch with exporting companies to discuss the possibility of exporting around the world."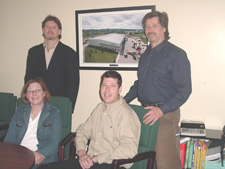 Edna Perkons and Robert Simon (seated) and Paul and Steve Simon are the third generation of their family to work in the lumber industry.