Linwood Furniture Continues Expansion (pg 38)
By Gary Miller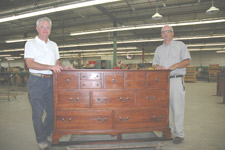 Jimmy Kepley, owner of Kepley-Frank Hardwood Co. Inc. and president of Linwood Furniture Inc., stands by a "The World of Bob Timberlake" triple dresser with Bryan Starnes, the plant manager at Linwood Furniture.
Lexington, N.C.—In the May 2006 issue of National Hardwood Magazine there was an interesting article that explained that Jimmy Kepley, owner of Kepley-Frank Hardwood Co. Inc., formed a partnership with Bob Timberlake to reopen Lexington Home Brands Plant 2 in early March of this year to continue to produce the famous furniture line called The World of Bob Timberlake. The new partners named their furniture manufacturing company in Lexington, N.C., Linwood Furniture Inc.
When the plant initially opened it had 25 employees. Some worked in the rough mill that consists of modern lumber handling equipment and eight dry kilns with a total dry kiln capacity of 600,000 board feet per charge. Other employees ran the company's chop saws that helped cut any defects from lumber the firm was processing at the time.
Now, almost 10 months later, Linwood Furniture Inc. has 85 employees who perform different tasks that, in some way, contribute to the goal of manufacturing beautiful Cherry furniture that includes entertainment centers, tables, dressers, etc.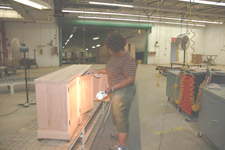 Katie Poole is the final case inspector, determining whether the furniture is very high quality and can go to the next process, which is the finishing process.
The lumber buyer for Linwood is Bart Jenkins, who also buys and sells lumber for Kepley-Frank Hardwood Co. Inc. When Linwood Furniture was first getting started, Jenkins bought very little lumber for that particular operation. However, that situation has changed because now he purchases approximately five truckloads a week of No. 3A and better Cherry in thicknesses ranging from 4/4 through 8/4, green, air-dried, kiln-dried and rough.

Jenkins' office is located at Kepley-Frank Hardwood Company Inc.'s large sawmill operation that is located on the outskirts of Lexington. Kepley-Frank is a full circle timber products operation owned by Jimmy Kepley that has over 80 employees. The firm has three sawmills that collectively produce approximately 15 million board feet of Appalachian lumber a year.
The large furniture factory has three forklifts to move lumber around the plant that includes a Taylor 30,000-pound-capacity, a Clark 25,000-pound-capacity and a Hyster, also a 25,000-pound capacity lift.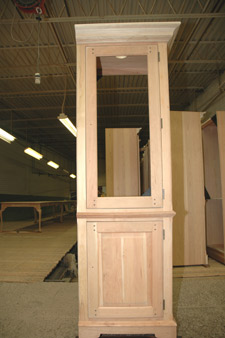 One of Linwood Furniture's tall Pier cabinets, made from solid Cherry, for their entertainment centers is shown here.
Some of the species of lumber Kepley-Frank manufactures include Red and White Oak, Poplar, Maple and Ash in 4/4 thicknesses. The firm's wholesale lumber business purchases, processes and markets about 15 million board feet of Appalachian Hardwood lumber per year from other sawmill facilities.

Some of the key employees of Linwood Furniture Inc. include: Bryan Starnes, vice-president of operations; Trey McSwain, the superintendent of the machinery end of the plant; Terry Charles, rough end supervisor for the facility that transforms sawn lumber into furniture; Johnny Harris, the machine room supervisor; Kenneth Stanley, the individual who sets up and runs the moulder; and Eric Walser, the dry kiln operator.
Kepley, who serves as president of Linwood Furniture Inc. said, "Most any service, or type of wood furniture that a customer needs can be manufactured at Linwood Furniture Inc. Basically, our plant offers the service of contract furniture manufacturing and can make wood components for other furniture manufacturers or for other types of woodworking plants."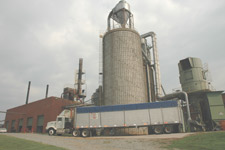 This outside view of Linwood Furniture shows the tall wood waste silos and the building on the left houses the two huge boilers at the plant.
Services provided by Linwood Furniture Inc. are supported by top-of-the-line equipment, according to Kepley. For example, some of the equipment at the plant include: Tannewitz bandsaws; five Fletcher-Talbert boring machines; Onsrud routers; Cold press; Diehl gang rip; a Torwegge edge bander; Whitney shapers and profilers; five Diehl gang rip saws; three Taylor glue reels; a Rosenquist electric-flow; two Newman-Whitney planers; six Weinig moulders; four tenon machines; and several chop saws.

In closing, Kepley said, "I'm very proud of all the people who work with me to help make Kepley-Frank Hardwood Company, Inc. and Linwood Furniture, Inc. successful enterprises. They are all very hard working and loyal individuals that do a good job. When anyone needs quality lumber, furniture and/or wood parts, we hope to hear from them."

Phone: 336-956-1095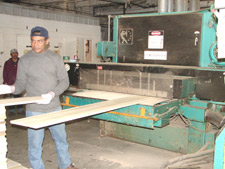 Kepley-Frank Hardwood Co. Inc. now offers kiln-dried lumber to those in need using the eight dry kilns located at the facility.