Granite Valley Begins Operation Of New Planer Line (pg 46)
By Wayne Miller

Marathon City, Wis. – Granite Valley Forest Products Inc. recently began operation of its new planer line with a complete state-of-the-art infeed system and Newman S282 EPR 24-inch planer, designed to add value to products for its customers. The company also completed installation of a new 90 x 100 steel-structured building to house their new planer line, along with an attached new 20,000 square foot warehouse.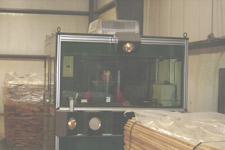 Granite Valley Forest Products Inc., located in Marathon City, Wis., recently installed this new, state-of-the-art Picture Tally system.
"With the additional new planer line, we now have the capability to do more than 25 sorts," said Kerry Romsa, co-owner and chief operating officer. "The attached new warehouse allows us the flexibility to move kiln-dried lumber from the new line during any type of weather to either permanent or temporary warehousing without the worry of getting the product wet," said Romsa.
Future plans include an attached canopy to help further ensure the product remains dry during loading and unloading. Total dry storage is now approximately 4 million board feet.

With the addition of the second planer line and the original line that employs a Newman S282 18-inch machine, the company can process more than 80,000 feet of 4/4 lumber per day. "The additional line allows greater flexibility to fill those last minute orders that, in today's environment of 'just in time delivery' seems to be more common," Romsa said.

The company also installed a revolutionary new Picture Tally™ system. "Picture Tally is an industrial hardware and software system that uses computers, digital camera and a control system to automate the process of lumber bundle tallies," said Russ Wendorf, the other co-owner and chief financial officer. Those tallies are imported into the company's computerized inventory system that provides pack reports of the exact width and length of each board. "The investment made in this system helps ensure accurate piece tallies and allows us the ability to e-mail pictures of each package shipped along with a corresponding mapping report of the width and length of each board in the pack," said Wendorf.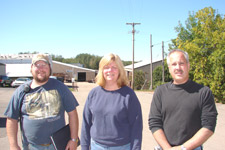 Joe Pierson, plant manager; Julie Schepp, office administrator; and Kerry Romsa, co-owner of Granite Valley.
This new machinery comes on the heels of a new wood fired boiler system and extensive yard remodeling the company underwent last year. "This expansion has made it necessary to add eight people to our staff," Wendorf said.

Granite Valley, a dry-kiln operation and concentration yard, is located on approximately 20 acres in the Village of Marathon City, about eight miles west of the City of Wausau, the largest metropolitan area in central Wisconsin. Other aspects of the company's operation include automatic stacking and down stacking equipment, a Mattison rip saw and a Newman multiple trim saw.
Granite Valley is committed to delivering the exact specifications for each of their customer's orders, according to Romsa. "We sell orders from under 1,000 board feet to multiple truckloads," he explained. "Kiln-dried orders include rough, S2S and straight-line ripped, as well as various color sorts. Since starting operations, we have gained and maintained an outstanding reputation for the quality of the products we deliver."
Marketing their products nationally and overseas, the company is experienced in export prepping and container loading. The company has been certified by Northeastern Lumber Manufacturers Assoc. (NELMA) to meet the requirements for wood packaging and is authorized to stamp lumber and pack material for shipment anywhere in the world.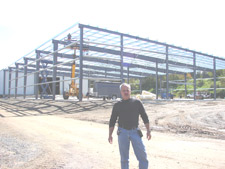 Romsa stands in front of the new 20,000-square-foot warehouse project at the operation.
Romsa has more than 30 years of experience in the industry and is involved in all aspects of operations, but he focuses most of his time overseeing sales and purchasing. Wendorf has over 25 years experience as a Certified Public Accountant and oversees all financial activity and assists in the buying and selling of lumber.

According to Romsa, Granite Valley has established strong relationships with more than 100 sawmills, both large and small. For some of the smaller sawmill suppliers, the company offers custom grading. "In a very short time we have gained our mill suppliers' trust and respect and they are confident that what they ship us is what we pay them for," he explained. "We pay all suppliers according to their terms and have never missed paying within discounted terms. We are very proud of this fact and encourage new potential suppliers to check our credit references with any of our vendors."

Due to the recent expansion, Granite Valley now employs 35 employees, all of whom contribute to the success and growth of the company. Key employees at the firm include Joe Pierson, plant manager and facilitator, and Julie Schepp who handles all office procedures.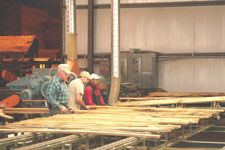 The company also installed a new planer line, including this Newman S282 EPR.