Classic American Expands Into Drying, Further Processing (pg 48)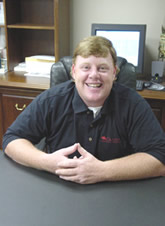 Bill Courtney is president of Classic American Hardwoods in Memphis, Tenn. He opened the concentration yard in August of 2001.
By Terry Miller
Memphis, Tenn.—Since 2001, Classic American Hardwoods Inc. and Jorgensen-Bennett Manufacturing Co. have been neighbors in downtown Memphis.
While Classic American services distribution customers as a concentration yard, Jorgensen-Bennett provided milling and dry kiln services to its customers for more than 100 years as a custom kiln drying operation. However, as the economy slowed over the past 12 months, and as operational costs climbed, the firm's ability to maintain profitability declined.
As Bill Courtney, president of Classic American explained, "I was contacted by a Jorgensen-Bennett representative, who said that the company planned to shut down while they were still financially ahead and able to pay off any and all debts. At the same time, they inquired as to whether I may have an interest in the property."
For Classic American, the timing of Jorgensen-Bennett's inquiry could not have been better planned. At that time, Courtney was considering tentative proposals regarding the purchase of four or five kilns. As a result, the dialogue was in process with various dry kiln manufacturers.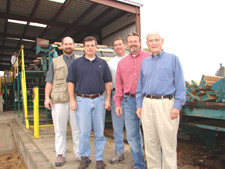 The procurement and sales team at Classic American Hardwoods consists of: Will Donoho, sales; David Jorgensen, supervisor of procurement of green lumber; Jim Tipton, sales; Doug Johnson, sales; and Bill Turner, who oversees export sales. The team is standing in front of the firm's new USNR stacker as it stacks 5/4 FAS Appalachian White Oak.
"Jorgensen-Bennett was planning to auction off their equipment, but when they offered it to me, it was an obvious win-win situation for both companies," Courtney said.
Five months ago, Classic American acquired from Jorgensen-Bennett more than 425,000 board feet of kiln capacity, two stackers, a material handling system with a Newman S282 planer in line, forklifts and associated equipment.
Courtney realized and appreciated the knowledge and expertise possessed by Bobby and David Jorgensen, who represented the fourth generation of owners at Jorgensen-Bennett. So, Courtney approached them about joining Classic American.
"Bobby and David had something else to pursue professionally after leaving Jorgensen-Bennett," Courtney said, "but I knew no one else knew that plant better than the two guys who owned it. I approached them about joining us after we settled on the property and equipment that I purchased from them. They agreed to come onboard, and I was thrilled."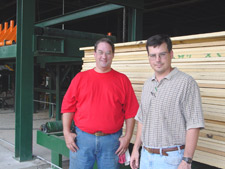 Bobby Jorgensen is in charge of the kilns and drying lumber at Classic American, and David Jorgensen oversees the green lumber purchasing for the firm.
Bobby is now in charge of the kilns and drying lumber at Classic American, and David oversees the green lumber purchasing for the firm.
"Now that we have 425,000 board feet of kilns, procurement has become even more important," Courtney said. "We've been fortunate at Classic American, because the business has grown so much since 2001 when we opened our doors. I was having a hard time handling the business and all the green procurement, so this acquisition with Jorgensen-Bennett could not have happened at a more perfect time."
Now David Jorgensen is busy at Classic American purchasing large volumes of 4/4 and 5/4 White Oak, 4/4 through 12/4 Poplar, 4/4 through 8/4 Cherry and 4/4 through 8/4 Ash, Hard and Soft Maple, Red Oak, Aromatic Cedar, Walnut and Hickory.
The recent transition of equipment and personnel from Jorgensen-Bennett to Classic American comes on the heels of significant upgrades at the firm, which boosted its property to 46 total acres and nearly doubled the amount of square footage in which to operate. In that additional structural space, Classic American installed its second moulder, which is a 7-head Weinig. This enables the company to produce boards that are 1x10 and 1x12, as well as S4S. Classic American's other moulder is an 8-inch model, so now "we have the capability to do mouldings all the way up to 12-inches, which enables us to pursue more of the large S4S business and wide mouldings," Courtney said.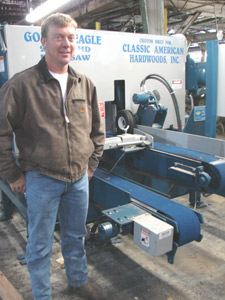 Kevin Clements, Classic American's production/yard manager, stands beside the company's new Brewer horizontal resaw that is used for resawing stock for thick mouldings.
The company installed a TimeSaver belt sander that spans 52-inches, which Courtney said is "of value, especially in fulfilling orders for our distribution customers who want their products surfaced and straight-line ripped to finished thickness. Now we can sand it down to finished thickness right at our Memphis plant. It's a very clean and very smooth product when completed."
Another new processing facility that will aid Classic American's progress is the Brewer horizontal resaw. "This allows us to resaw thick stock for mouldings in odd thicknesses, such as 3/8-inch, and gives us the ability to get a little extra yield," Courtney said. "Additionally, since we are now exporting, we've worked with the National Hardwood Lumber Association to get our 'heat treated' stamp, and we are taking heat-treated lumber and using our resaw to make cross-outs and runners. Then we heat stamp them for export."
Additionally, Classic American is utilizing a new destack line that has a tilt hoist and approximately 100-feet of chain, and a new USNR stacker that can handle between 55-to-60,000 feet of lumber per day.
"We've integrated a lot of new equipment for two purposes," Courtney said. "They allow us to provide additional services to the distribution centers we cater to, and they empower us to make new products. We can now respond better to their needs."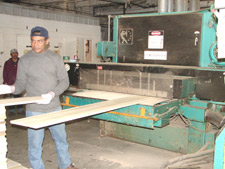 Classic American uses a 52-inch wide belt timesaver sander, which provides 13/16-inch straight-line ripped Poplar for distribution customers.
Since the company expanded, it has added services. Courtney noted it can now provide products "for the large home centers directly through distribution."
The list of services now available at the company is long, and includes: surfaced, sanded and straight lined lumber; gang-ripped products; export prepped products; stacked, dried and milled lumber; and width-sorted lumber products.
Classic American's sorting capabilities are vast. For example, the firm makes 26 different grades of Soft Maple, including its proprietary cabinet grades, moulding and paint grades, clear strips, wide sorts and white, brown and calico sorts. The company also sorts Poplar, Cherry, Hard Maple, Red Oak, Ash and Hickory.
"We offer a plethora of different sorts," Courtney said. "That's what we offered when we first opened as a business, and it remains one of the biggest bases of our day-to-day business. The amount of sorts we do is phenomenal."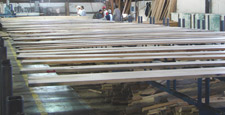 Inspection and sorting of 5/4 FAS Ash occurs behind the Newman S382 planer.
Classic American can easily handle what Courtney described as "hard orders." These involve such requests as a whole load of 4/4 6-inch-x-15-foot White Soft Maple.
"These are orders that our customers tell us no one else either wants to do, or can do," Courtney said. "Not only can we do them, we actually want to do them.
"Overall, we build relationships with our customers, regardless if the orders are easy or hard. As we help them and are of value to them, they can be of value to us by assisting us in keeping our products moving in the marketplace. Building these kinds of business relationships requires a lot of communication to understand exactly what the customer is needing."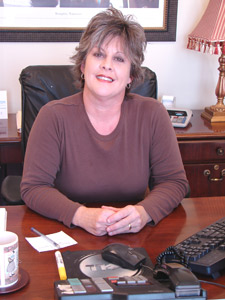 Becky Hundley is the receptionist for Classic American Hardwoods, and also handles inbound receipts of green and kiln dried lumber.
Courtney also observed that often the customer who is in search of the "odd" order, or the order that's not in sync with the overall market, is often overlooked. "These customers are actually a small part of that very market that we think is driving our business," he added, "so every order and every customer matters."
Classic American procures lumber from as far north as Canada and from as far south as Florida, and can ship orders via flatbed, containers and rail car.
Classic American employs 71 employees. In addition to Courtney and David and Bobby Jorgensen, other key personnel include: Bill Turner and John Hise, export sales; Doug Johnson, Will Donoho, Jim Tipton, domestic sales; Kevin Clements, production/yard manager; Cindy Baneck, office manager; and P.J. Fleming, Jack Everett, Cliff Hart and Sam Quinn, line managers.
"At Classic American, we're honored that our knowledgeable staff is teaming up with Bobby and David Jorgensen, who come from a long line of quality lumbermen," said Courtney. "They share our vision, which is to look at each business problem and create a solution for it. This is the essence of providing service to our customers. We're pleased that now—with the equipment and machinery we recently acquired—we can provide our customers with all the products and services they may need."
Classic American Hardwoods Inc. is a member of the National Hardwood Lumber Assoc.
Contact: bcourtney@cahmemphis.com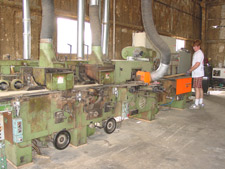 Classic American recently installed a 7-head Weinig, which enables the company to produce boards that are 1x10 and 1x12, as well as S4S.