Lyndon Furniture: Weathering The Storm And Coming Out Ahead - pg 30
By Bridget McCrea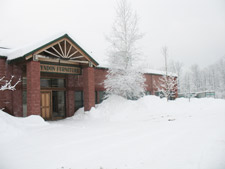 Nestled in the rolling hills of Lyndon, Vt., is Lyndon Furniture, a 33-year-old furniture manufacturer that today purchases about 2 million board feet of Cherry, Walnut, Hard and Soft Maple, Oak and Ash in upper grades.
Lyndon, Vt.–In a business climate where many companies have struggled to stay afloat for the last few years, Lyndon Furniture, located here, is literally bursting at the seams and turning down work. "We've had tremendous growth this year," stated David Allard, founder and president. "Just last week we had to turn down a job with a tight lead time that we couldn't feasibly meet; I've never had to do that before."
Allard, who founded the company in 1979, said the manufacturer of fine Hardwood furniture will post its highest sales revenues in 2012 and is on track to ride that growth wave well into the new year. He credits Lyndon Furniture's unique furniture designs, proactive approach to customer service, and its "Made in America" labels for helping to boost the firm's stellar growth during a time when many firms are stagnating.
"Everyone wants American-made products right now. Stores, customers, and dealers are all looking for it and we've had it since 1979," said Allard. Also working in Lyndon Furniture's favor is its ability to flex and accommodate customers' specific needs, regardless of how small or big those needs may be. "If someone wants a table that's an inch bigger, an inch higher, or made from a different type of wood, we can do it," said Allard. "A lot of people gravitate toward that kind of flexibility, particularly in our specialized market."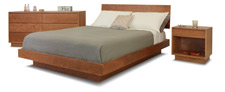 A sample of the handmade craftsmanship in Lyndon's bedroom furniture is the Brattleboro model, available in solid Maple, Cherry, Oak and Walnut.
With three plants comprising a total square footage of 120,000-square-feet, 70-employee Lyndon Furniture has been focused on detail, quality, and unique craftsmanship since its inception. The company uses about 2 million board feet of lumber annually, primarily Cherry, Walnut, Hard and Soft Maple, Oak, and Ash in the upper grades, and in 4/4 through 8/4.
Allard purchases raw materials directly from sawmills and works with a handful of lumber wholesalers. Most of the sources are located in the Eastern U.S., with some Walnut grown in the Central and Mid-Atlantic states. The firm has a sales manager and several sales reps, all whom sell to mid- to high-end furniture retailers across the U.S. "We're particularly strong in the Eastern, Northeastern, and Mid-Atlantic states," said Allard, "and we're now looking for more accounts in the Southern states."
A member of the Sustainable Furnishings Council, Lyndon Furniture's earliest roots can be traced back to the days when its founder combined an excellent high school woodworking program with a lifelong entrepreneurial bent. "I was selling cattle, bales of hay, and Maple syrup back when I was in elementary school," said Allard, who at the age of 19 built a fieldstone home for his parents. "I started my company just out of high school and never looked back. I knew this was exactly what I wanted to do."
Early on, Allard was handling custom woodworking for local customers. He later built his own factory on family-owned land by cutting down the trees himself, skinning them, and then hauling them to a nearby sawmill on an old farm tractor. "That's how I could afford to build my first 4,000-square-foot building," said Allard, who quickly realized that he would have to reach outside of his local area for new customers if he wanted his fledgling company to grow.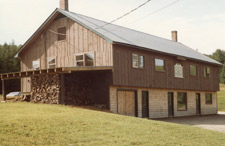 With three plants comprising 120,000-square-feet, this facility (pictured) is contributing this year to Lyndon's highest sales revenue in the company's history.
"I figured out how to sell wholesale to stores outside of the area," he said. "That's how I got going with my current model of selling wholesale furniture to stores nationally, and even internationally. Once that happened I was able to generate enough income to add employees, equipment, and two additional plants."
And while Allard's transition from child entrepreneur to head of a multi-location firm that can sustain itself even through the worst economic times sounds smooth, he did hit a few snags along the way. Right now, for example, he said rising fuel costs are an issue for Lyndon Furniture, which generates its own power using diesel generators and heats the plant with those units as well. "We use a lot of fuel, so the continual price increases have been a real challenge for us," said Allard. "We try to be as efficient as possible and pre-buy fuel whenever possible, just in case."
Vermont's low unemployment rate (under 5 percent) is another hurdle that Allard has to work through. "We have a good employee base, but with Vermont's unemployment rate being the fifth lowest in the nation," Allard explained, "finding new team members is a perpetual challenge."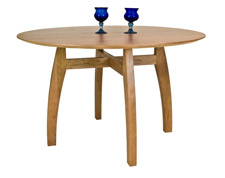 This line of Chelsea tables is available from Lyndon in Oak, Cherry, Maple and Walnut.
Allard also keeps a close watch on the economy, despite the fact that his firm has successfully weathered the recessionary storm quite well. "At the pace we're on we'll have an even bigger year in 2013, but we all know that the economy is fragile and that it could send us into a tailspin at any time," said Allard. "I'm not overly confident by any means, but it's nice to know that we've weathered at least one storm quite well."
For more information on this company, visit online at www.lyndon.com.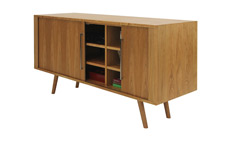 Cherry graces this credenza from Lyndon Furniture, which is a member of the Sustainable Furnishings Council.