The Straight Up Business Of Excelsior Wood Products - pg 32
By Clare Adrian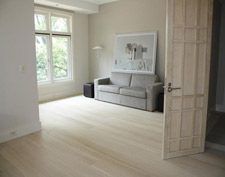 Excelsior Wood's rift and quartersawn White Oak flooring is pictured installed and finished with VOC free oils. Excelsior purchases 800,000 board feet of Hardwood lumber annually.
Kingston, N.Y.—Excelsior Wood Products has something in common with its host State. The name for the company that occurred to founder Ron Sauer and wife, Christina Marie, at its inception in 2002, is the same as the State motto, also "Excelsior," meaning "ever upward."
For custom work as needed, Sauer purchases a solid 800,000 board feet of new lumber annually, which is often very wide planks from such suppliers as Baillie Lumber, Graf Brothers, and Pike Lumber Co., among others.
Steadily rising and incremental steps have lead Sauer to the current facility, his third, by 2008. The 25,000-square-foot steel building complex he leases allots space for manufacturing, offices, and retail, the 2-acre plot of land, materials storage, and room for continued growth. Typical inventory holds at 400,000 board feet of an even mix in new and reclaimed lumber.
The plant location is only a 10-minute drive from Sauer's home and 80 miles north of NYC, the destination of many completed products. Materials zip in and out expediently at the nearby interstate exit without the congestion of the city and product deliveries stretch to within a 250-mile radius upon a 10-wheeler freightliner curtain-side, a 6- wheeler Ford flatbed, box truck, GMC trucks or are shipped LTL anywhere from Chicago to South Beach, Fla., and from Denver to LA.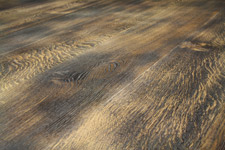 This custom quartersawn White Oak flooring is made to look like a wildfire came through "shou-sugi-ban."
Sauer explained, "Rather than reinvent the wheel, folks that have an apartment in NYC and a fancy house somewhere else ask us to handle it. It's just as easy to put product on a truck for Toronto as find someone there and I like the challenge of working for people who don't want to be bothered with it. They always generate a new flavor."
Sauer's brand of open-ended creativity, matched with his willingness to take on the creativity within others, attracts the upper echelon, second home clientele. He explained, "I try to show the scope of our creativity, almost like an ice cream shop who makes banana splits. The customer may just buy vanilla, but thinks it's cool to know the breadth of ideas. If we show our creative abilities we have by nature, they also know we can do the simple ones."
In general, the facility produces anything from new and reclaimed wood flooring, mouldings, sawn and hand hewn beams, architectural millwork to siding, decking to tables, customized by securing any type of wood desired, milled to precise specifications, and enhanced by a uniquely concocted Excelsior look.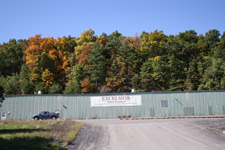 Excelsior Wood Products, Kingston, N.Y., comprises a 25,000-square-foot manufacturing facility.
The company stance, "The imagination is the limit and a perceived difficulty becomes a challenge we want to take on," gets Sauer into uncharted territory that thereafter becomes routinized. His first attempt at end grain flooring was composed of a 3,000-square-foot expanse of 76,000 small blocks of end grain Oak, "a spectacular floor displaying the vertical history of a tree."
Sauer also developed a 3-dimensional flooring line, typically in Redwood, that is a flat surface yet appears to have elevational changes like waves in a pool.
Usually it's Sauer that comes up with and creates vexing projects. Occasionally, a request comes in to open a new floodgate. "We do work for the type of clientele that want privacy, that is challenging, outstandingly cool and off limits to show." Those clients include Yankees shortstop, Derek Jeter, Giants quarterback Eli Manning, Brooke Shields, and Whoopi Goldberg.
Sauer recalls a request that he added to his line for "a floor to look like wildfire came through." He uses quartersawn White Oak and applies a Japanese technique of burning wood called shou-sugi-ban used in siding and flooring for prefinishing the wood to produce textures and colors that cannot be chemically produced.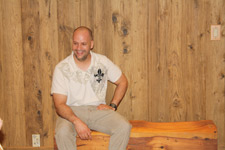 Ron L. Sauer, sole proprietor of Excelsior Wood Products.
Wood that is 4/4 through 8/4 thicknesses can fulfill most project specs and if a client wants all 15-inch wide Sarsaparilla, Sauer will get it. His dauntless persistence has gotten Sauer's company through the recessionary lag that the industry has experienced overall and led to his current clientele.
And that's just the direction the company has been taking ever since Sauer followed his burgeoning interest into the woodworking field and away from the family dairy farm where he grew up. The gutsy move even necessitated rousing from sleep in the back seat of his car to start another long day building the business late into the night, when he was too tired for an hour-long drive home.
He had started out working for other companies, many who went out of business in 2007. To stay afloat, he shifted to working with the end-users themselves and buying his own materials inventory. "No one wanted to stock shelves with flooring they weren't selling, so I knew I had to sell direct to homeowners, architects, and contractors or I'd go out of business. I work for whomever is making the creative decisions."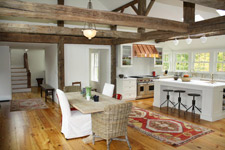 Excelsior's custom flooring is a hit among many well-known celebrities, such as Yankees shortstop, Derek Jeter and Giants quarterback Eli Manning.
The business is a far cry from the days of sleeping in the car after foregoing farm life where he didn't feel he had a role beyond milking cows and other tasks his sister, Christina, were assigned in the milk processing plant, followed by a dead end job delivering woodworking tools for a Canadian-based company. He didn't see a future there, though he admired the products he saw when picking up saw blades from manufacturers for sharpening. He was inspired to take out a home equity loan, rent a 2000-square-foot space in a wood shop where he had delivered tools and began running complicated reproduction mouldings for local mill shops.
Sauer reflected, "It was a poor time so I started the company to generate income in any way I could. Self taught, my wife pregnant, life on the line, if I didn't have work went home, if I did, stayed, worked, and slept in the car. I took on a lot I shouldn't have and yet that's how I got the product diversity. When people asked for something, I'd say, 'I don't know but I'll learn.' They were open to giving me an opportunity and I still have my first customer. By providing nuts and bolts support and keeping everyone happy, I have great relationships with customers."
Success built, job for job, and after a year and a half, Sauer moved his operation to another location five miles from his home where he continued to grow his business for five years. He acquired all the equipment he needed along the way to produce the wide array of custom millwork he does today including the Weinig Powermat 1000 moulder; Weinig gang rip saw; 36" Timesaver 2-head sander; 16" dual conveyor horizontal re-saw bandsaw; Extrema Magnum XP double-sided planer; Raimann KM rip saw; Weinig profile grinder Powerlock Rondamat 960; Renzo Borgonovo "flex spray" feed-through spray unit; dust collector; automated defecting line; Oscar 36" band mill; two Hyster forklifts and the truck fleet.
He also gradually hired on employees, starting with his sister, Christina, now office administrator and sales, lifelong friend, Brian Bonestelle, who has been working as moulder operator and key leader in the shop since 2002, and Chris Wambach, shop manager. A three-man crew handles deliveries and 12 employees, who also install product to within a 50-mile radius, round out the close-knit Excelsior group.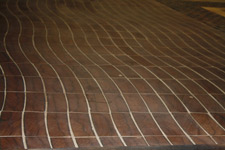 This is an example of Excelsior's three-dimensional flooring, which appears to have elevational changes in the flat surface.
Underlying the creativity that Sauer brings to the company are the principles and values he brought from the farm, learned from his father and grandfather, and applied to growing and running his business in an environmentally responsible manner. Excelsior's electricity is generated from wind and solar power, all sawdust is recycled into wood burning bio-bricks, VOC free oils are used to pre-finish flooring, and Sauer purchases FSC certified lumber. He noted, "Just being responsible and taking care of what nature has is a lifestyle, being frugal and kind to the earth is the nature of farming. We didn't have in mind to be environmentally responsible, it's just the way we are."
Farm life principles of best practices nurture growth as well and Sauer's only goal for the company is to continue to produce the best workmanship possible, to be the best employer, to make the best product and with that effort, to grow. "Word of mouth has been good for us, and by adhering to the same principles that dad and grandpa had, we'll be rewarded if doing our best and not slighting anyone, which is better advice than any marketing of today."
As Sauer looks to the future part of doing his best is to offer improved benefits for his employees and to continue charitableness in the community, which he considers growth laterally as well as upward. He's contributed reclaimed wood products to a local extreme makeover, entire millwork for a church, and funds to St. Jude Children's Research Hospital.
The only promo inherent to his humble beginnings was to just show people boards and ask what they think, and Sauer is hesitant about introducing his workmanship through trade shows. "I'd love to though I'm not sure I'd be effective. It's an achievement that would feel good, just as when sleeping in my car I wondered if I'd make it another week, trade shows would be again, beyond a dream come true."
For more information, see www.excelsiorwood.com.