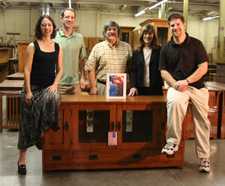 The Trend Manor family: Leanne, Scott, Ted, Adrian and Greg Vecchione. Located in City of Industry, Calif., the company has been manufacturing quality Hardwood furniture for more than 60 years.
Trend Manor Furniture—Producing Quality Solid Wood Furniture, 60 Years Later (pg 30)
By Michelle Keller
City of Industry , Calif. —Trend Manor Furniture Manufacturing Company, located here, has been making quality Hardwood furniture for more than 60 years.
Trend Manor has seen success and growth since its early days in 1961 when it made only tables. Today the company offers occasional tables, accent pieces, home office, bedroom and dining room furniture, and even sofas.
Trend Manor purchases 250,000 board feet annually of Red and White Oak, 4/4. 5/4, No. 1 Common, quartersawn.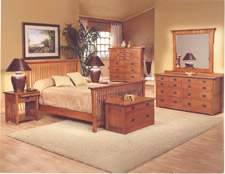 A mini mule chest manufactured from solid quatersawn Red Oak is included in this suite. Trend Manor purchases 250,000 board feet annually of Red and White Oak.
The unique history of this family-owned and operated business dates back to the 1940s when Julian Vecchione started working in his parents' retail store. Vecchione and a furniture salesman began talking about starting a furniture manufacturing business, but before they could get off to a good start, World War II began and they both entered into the armed forces to serve their country. When the war ended in 1946, Vecchione returned home with a new nickname, 'Vic', and a new business. Early beginnings included a 3,500-square-foot plant in East Los Angeles , where they began making occasional furnishings.
In three short years the company moved to a new location in Los Angeles and Vecchione bought out his partner, thus becoming the sole owner of Trend Manor Furniture.
Six months after sharing the 10,000-square-foot facility with a casket manufacturer, Trend Manor expanded to fill the entire plant.
In 1956 Trend Manor expanded further into a 20,000-square-foot factory, located in an industrial area of Pico Rivera , Calif. At that time the firm began manufacturing Early American furniture and the venture was an immediate success.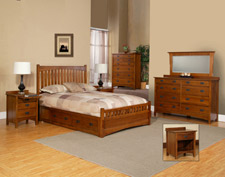 This Trend Manor bedroom suite is manufactured from solid quartersawn White Oak.
Continuing to grow, Vecchione's son Ted joined the company in 1961. By 1969, again, Trend Manor had outgrown the Pico Rivera plant and moved to their current location in the City of Industry.
On three acres in a new industrial area, Trend Manor built a 65,000-square-foot building. Shortly after they moved into the new facility, a downturn in the economy hit, making business conditions difficult. "Initially we leased out 20,000 square feet," commented current President Ted Vecchione. "A lot of blood, sweat and tears went into the first year, but with tenacity it didn't take long to take over the entire 65,000-square-feet."
In an era where many furniture manufacturers are using different, cheaper materials, Trend Manor continues to produce solid Hardwood furniture today.
"Trend Manor is committed to having the latest woodworking equipment but refuses to compromise quality craftsmanship," Vice President Greg Vecchione explained. "A primary example of our dedication is that each piece of furniture is still hand-rubbed and waxed to enhance the natural beauty of the wood. Vic Vecchione's mission was to build furniture that people will be proud to have in their homes that would truly last for generations. Our motto is still the same today. We have always been known for our quality. We want to make furniture that you will be proud to have in your home and will last a lifetime."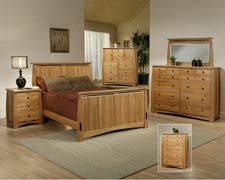 Trend Manor's solid wood bedroom suite with African Hardwood inlay.
Including Greg, key personnel at Trend Manor are: Ted Vecchione, president and Adriane Vecchione, secretary/treasurer. Now in their third-generation, Trend Manor has been a family business since the beginning. "All of Ted's kids, Scott, Leanne, and Marianne have worked at the factory at one time," Greg mentioned. "Ted's son Scott heads up our IT department and handles programming of our CNC production equipment. With 40 employees we have 17 that have been with us over 10 years, seven employees over 20 years and one in his 39th year. Trend Manor Furniture has longevity you can count on."
Equipment used in everyday operation at Trend Manor includes: Accusystems, Rosenquist, Grecon, Torwegge, Timesaver, Northwood and many others.
"Our seven step process of applying our stain, which includes hand wiping, sanding, and polishing each piece of furniture that we sell is what makes our quality stand out," Greg explained.
All furniture finishes provided by Trend Manor are exclusive. "We have worked long and hard with our supplier to perfect our own colors and those finishes are only available to us," Greg said.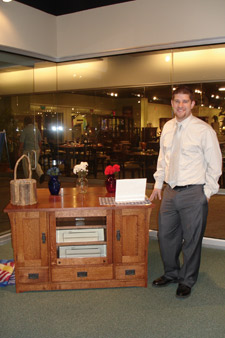 Vice President Greg Vecchione today helps guide success at Trend Manor Furniture, now in its third-generation of Vecchione family members involved in the business.
Finishes available include: Country and Mission Cherry; Unfinished; Natural; Honey; and Vintage. Any product manufactured from Oak can be ordered in any of the finishes offered. Cherry finishes include: Natural, Cherry, Cognac and Java.
For more information visit www.trendmanor.com .