Made In America Expands At High Point Furniture Market (pg 36)
By Tom Inman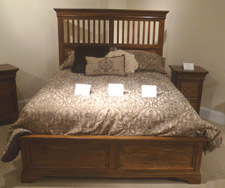 Independence collection from Lincolnton Furniture has Cherry solids
High Point, N.C. – Furniture that was "Made in the USA" was a prominent theme for the 2011 Fall High Point Market, held here.
From new companies to expansion of lines from existing companies, American-made goods received attention at the recently held fall market. Dozens of companies promoted their USA products to retailers looking for new merchandise to entice customers.
Market Square & Suites responded with an entire floor of their showroom complex devoted to Made in America products. Manufacturers who had large showrooms in other buildings took a small space in the pavilion to reach buyers.
"We realized there was an opportunity to assist buyers by creating a single destination for domestically produced home furnishings," said Brian Bunch of Market Square AC Management. "There is more interest than we ever imagined."
Century Furniture participated by showcasing its Bob Timberlake Home Collection. The pieces offer traditional American styling and are made of Maple and Cherry.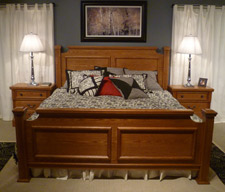 Vaughan-Bassett Furniture's traditional Oak bedroom group
Century officials said response to that and dozens of other new pieces at market this year was very positive. The showroom saw an increase in buyer attendance.
Vaughan-Bassett Furniture expanded its Appalachian Hardwoods collection with two new groups. The company also introduced its Trends collection in Cherry with five beds and dozens of case goods pieces.
"We had 100 new customers come to visit our showroom that we have never seen before," reported Doug Bassett, vice president of Vaughan-Bassett Furniture. "I would say our order writing was up 20 percent from last market and was terrific."
He said Appalachian Cherry, Oak and Maple continue to be buyer favorites for VB's market of medium priced designs. The company is America's largest solid wood bedroom manufacturer.
"People know who we are and what we produce. Our quality and fast delivery are what they are looking for in today's market," Bassett said.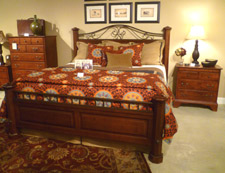 Kincaid Furniture mixes maple and metal in Brookside Maple group
Newcomer Lincolnton Furniture had tremendous success in reaching buyers with the new designs and lines that will be available in December. Company President Bruce Cochrane said the response exceeded expectations.

"It was really good for us this time and people welcomed us back and are excited about the new product we are making out of solid wood," he said.
The company offers bedroom and dining room groups in traditional and contemporary styles made of Oak, Cherry and Maple. The solid wood pieces come with a lifetime warranty and will be made in a new facility in Lincolnton, N.C.
Kincaid Furniture expanded its American Homecoming collection with more than 20 new pieces in Walnut, Maple, Birch and pine solids. The traditional design includes bedroom, dining room, entertainment and occasional pieces.
Traffic through the showroom was ahead of October 2010, officials said, with interest in the solid wood products. The Vintage Walnut collection received very positive response.
Kincaid officials said its Vintage Oak, an extension of its Homecoming collection, is receiving high marks - and commitments - for its solid Oak construction with tongue and groove details, antique hardware and large overhang on tops.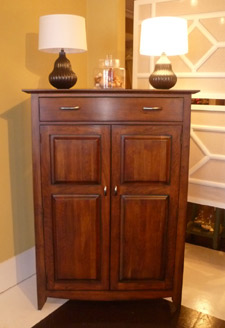 Linwood's Louis Phillip collection in Cherry solids
American manufacturer Linwood Furniture also received a boost from the emphasis on Made in the USA. The company's Keswick Manor in solid American Maple was a hit along with other offerings in its Louis Phillip collection in Cherry.

The High Point Market is the largest furnishings industry trade show in the world, bringing more than 85,000 people to High Point every six months. The market has 180 buildings with more than 10 million square feet of showroom space. There are more than 2,000 exhibitors and tens of thousands of product introductions.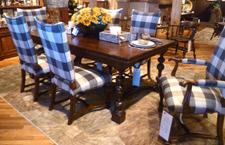 Century Furniture expanded Bob Timberlake Heritage Collection with new pieces in Maple