Value Engineering And Creative Ideas Thrive At Svoboda Industries
By Bridget McCrea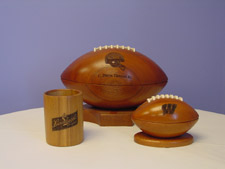 Located in Kewaunee, Wis., Svoboda Industries has made its mark on the industry through production of niche items, such as an all wood football for NFL alumni and an all wood "koozie".
Kewaunee, Wis.–In business since 1883, Svoboda Industries stands out from the crowd in several ways. For one, the company is 127-years-old, making it one of just a few Hardwood firms that have survived more than a century and are still going strong. Also making Svoboda Industries rise above the crowd is the firm's unique product lineup, and its ability to take a basic idea and develop it into a beautiful piece of woodwork that its owners can be proud of.
"We spend a lot of time value-engineering those ideas, and adding the innovative craftsmanship that our firm has become known for," said Mike Bloniarz, CEO and owner of the firm. "We take on projects and handle them from A to Z, and deliver a final product that our customers have come to appreciate and really enjoy."
Some of Svoboda Industries' recent projects include a full-size, wooden football made for NFL alumni and colleges. The firm is also the creator of an individual can cooler or "koozie" that's made entirely of wood. "That's a pretty unique product," said Bloniarz, whose laundry list of unique projects could fill an entire legal pad.
"The great thing is that we're not making the same thing day after day," said Bloniarz, who bought the company in 2005 after serving as its plant manager and CNC specialist for 22 years. "Whereas a lot of other firms might shy away from producing 25 or 50 units of a particular item, we relish the opportunity; we like the challenge."
With five employees operating in a new, 9,600-square-foot facility, Svoboda Industries specializes in a wide variety of custom woodworking components. The firm procures about 200,000 board feet of Cherry, Oak, Walnut, Maple, Honduras Mahogany and Spanish Cedar annually. The concentration is on domestic Hardwoods, according to Bloniarz, with less emphasis on the exotic varieties. The company uses grades No. 2 Select and Better.
Svoboda Industries relies on an internal sales force, with many of its customer leads coming from sources like ThomasNet.com and from referrals from past and current clients. Most customers are based in the U.S., and range from small firms to large corporations. "The best lead of all is word of mouth," said Bloniarz. "Because we've been in business so long, many customers have already heard of us and/or purchased from us in the past. They recognize our name."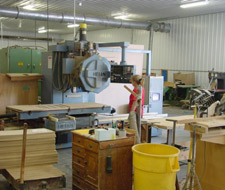 The firm operates 4.5 days a week making products from Cherry, Oak, Walnut and Maple. The company purchases 200,000 board feet annually of Hardwood Lumber.
The Svoboda name has been synonymous with quality and workmanship since its founder, Joseph Svoboda, opened the doors to the company in 1883. A Czechoslovakian craftsman, he began producing lecterns, pews and furniture used in houses of worship. The company evolved over time, with grandfather clocks added in the early-1970s. About six years ago, the firm moved to working strictly on contract accounts, said Bloniarz.
This year, Svoboda Industries moved into a new, smaller space that's "greener" and more efficient than the 24,000-square-foot plant where it was previously located. "When I bought the company in 2005, my plan was to eventually get into a facility that was considerably smaller, but also much more energy efficient," said Bloniarz.
The company's building is also 25 years younger than its previous home, better insulated and lighted, and equipped with infrared heating and a wireless communication system. What didn't change after the move was Bloniarz's four full-time workdays, which are rounded out by a 4-hour shift on Friday morning. The arrangement not only allows employees to enjoy a longer weekend, but also creates opportunities to work overtime on Fridays and Saturdays.
"We work from 6am to 3pm Monday through Thursday, and then from 6am to 10am on Friday," explained Bloniarz, who studied the effects of a 10-hour versus 9-hour workday to come up with the current work schedule. "The employees really like it, and it helps to break up any monotony. They don't get in the daily syndrome of, 'pick up your lunch box and here we go again.'"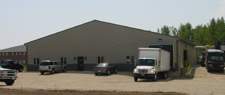 Svoboda Industries comprises 9,600-square-feet of workspace and is a 127-year-old firm.
With the negative effects of the economic recession impacting Svoboda Industries as much as it is other Hardwood firms, Svoboda said his biggest challenges right now are controlling expenses, dealing with a growing tax burden and maintaining affordable insurance coverage. He said 2011 will find the manufacturer getting settled into its new facility, and finding even more creative ways to fulfill customer requests.
"One of the things that kept us afloat in 2009 – during a very trying year for all firms –was our versatility, and willingness to diversify and take on new opportunities," said Bloniarz. "We didn't have all of our eggs in one basket, and we still don't. Hopefully, that will buoy our sales even more as the economy picks back up."
To contact Svoboda Industries, call 920-388-0554. Or visit online at www.mastersofwood.com.