Select Frames Aims At Pleasing The Customer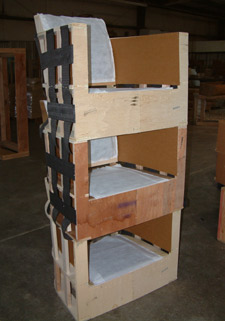 Select Frames in Biscoe, N.C., purchases primarily Maple, Oak and Poplar, as well as other Hardwoods, for its frame products.
By Clare Adrian
Biscoe, N.C.–Select Frames, located here, has survived a shift from residential to the hospitality market, a shift in ownership from father to son, and a name change. Yet it's always been furniture frames that have driven this company's steady longevity in quality, service and growth.
It started out as Joyce Frames, Inc. in 1972 when woodworker, David Joyce, realized there was a market for residential furniture frames in the area. By 1994, his vision veered toward the demand in hospitality and contract furniture and formed a second company, Select Frames. His son Wayne Joyce had joined in to help out in the family business shortly after finishing high school in 1989 and for awhile, the team was steering the helm of both companies. Eventually, they phased out the residential side, in 2003, Joyce senior retired, and Select Frames continues service to commercial clients under the leadership of son, Wayne, as of 2001.
Quality workmanship and development of 21st century manufacturing practices, shared between father and son, along with comprehensive services and the objective to please customers, contribute to steady growth for the company. To accommodate the downturn in the economy, Joyce averages out growth to be 5% annually. He acknowledged, "We've been very fortunate to continue taking on new accounts."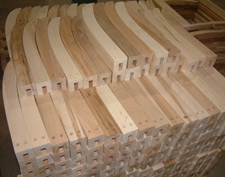 Select Frames' customers choose Maple for any exposed wood parts. It's preferred as a heavy, strong, resistant-to-shock specie that has low shrinkage and a fine, uniform texture.
Specifically, Joyce attributes the continued success of the company to hard work, quick lead time, and a no minimum quantity policy. "We have longstanding relationships with up to 40 different customers because we do anything they ask us to do. We don't tell anybody no. We're known for that and that's why we're busy." A quality product emerges from all the effort as well as repeat business from customers.
It may be no secret that Hardwood is the ideal furniture frame material to support the weight of years of wear and tear in the hospitality market or any for that matter. Most Select Frames' customers choose Maple for any exposed wood parts. It is heavy, strong, resistant to shock, has low shrinkage and a fine, uniform texture.
For unexposed parts Joyce buys a mix of Maple, Oak, some Poplar or other Hardwoods, excluding Gum, in thicknesses from 4/4 through 8/4, and multiple grades, from No. 2 Common to FAS. Altogether, he purchases 1.2 million board feet a year of kiln-dried lumber, and the same amount of plywood, used for very wide pieces, cut down to the needed size as specified by the two CNC Accu-Routers.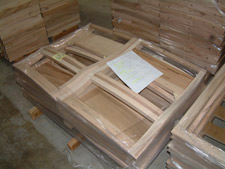 All totaled, Select Frames buys 1.2 million board feet of kiln-dried lumber annually.
In serving his North Carolina and Virginia clients, many of the wholesalers Joyce purchases from are located in Virginia, Pennsylvania, and North Carolina. "To the north, the quality is better, it holds up well, looks good, doesn't have grain, is white, so it can be stained to look like whatever species they want." And Joyce has begun the process of gaining Sustainable Forestry Initiative Certification to satisfy the increasing number of requests for sustainably sourced lumber.
Only after the customer approves the prototype is the information fed into one of the three company CNC routers, for furniture production. Raw material is processed through – first into the Mereen Johnson rip saws, on to the Weinig moulder or chop saw, and cut to length in the Barr-Mullin optimizing cut-off saw. As needed, the pieces may go on to the boring equipment to drill holes or on to be angled, all before the final assembly stage. "We offer ideas and changes, but design and shape largely comes from the customer, and only 5% of orders are for custom-made products, many times for hotel lobbies. Chain establishments may change a motif after several years or just the color of upholstery after a remodel." Furniture is assembled with springs attached also if specified, and shipped to the customer ready to upholster on one of two company trucks. Forty trailers are available, also, for delivering product.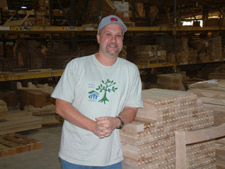 David Joyce began the company in 1972, and his son, Wayne (pictured), began leading the company in 2001 following his father's retirement.
At the current time, the entire Select Frames operation is under one roof. The building of a warehouse is in the planning stages for the lumber now stored in one end of the facility. The original structure, bought in 1994 from Hickory Spring Manufacturing has been added on to several times, to the point of doubling the size, now at 80,000 square feet.
Joyce is joined by 60 employees, some of whom have remained on through each company transition, up to 30 plus years, though none are in sales. "We've never had a salesman and I don't plan on hiring one. It's a small market, customers keep coming back, and they do the sales for us, selling the product to the hotels."
As commercial commissions have grown, residential strings along at only 10% of the business, consistent with the change in the market. The company also produces millwork, running moulding, custom flooring, and siding, as well as being a distributor for the franchise, MasterBrand Cabinets, and crafting the cabinets at the Select Frames plant. The added services sustain Joyce's motto to have multiple streams of income.

Select Frames is housed in an 80,000-square-foot facility and has 60 employees, some of whom have remained with the company up to 30 years.
As is true for every business Joyce has been involved in, he said the hard work pays off. "I work hard every day keeping new business coming and figuring ways to save money. I am grateful for my employees because I'm not anybody without them. They make the company. I can't do it all myself. I have respect for them, letting them make decisions and when they make mistakes, I stand behind them because we only learn with mistakes. It's been a very successful company and we don't owe any debts."
"Our strength is that we're not going anywhere. We're here to serve people down the road and giving them what they want whether one frame or searching for a particular request." He interrupted the conversation to answer the phone, and assured the caller he would do what he could to find that 60 feet of pine flooring for him, right away.

Wayne Joyce will do what he can to accommodate requests at 910-428-1225 x221 or via email at waynej@select-frames.com.