Begley Lumber—Manufacturing Quality Hardwoods Since 1971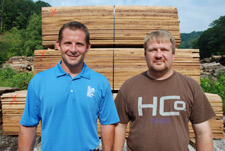 Tate Begley is the general manager of Begley's Hyden, Ky. band mill operation and Mark Napier is one of the sales people and he's a dispatcher as well.
By Gary Miller
Hyden, Ky.—Begley Lumber Co. manufactures Appalachian Hardwood lumber at their band mill operation that serves as their headquarters in London, Ky., as well as at their band mill operation in Hyden, Ky. The species of lumber they cut are Red and White Oak, Beech, Ash, Walnut, Hickory, Poplar and Hard and Soft Maple in 4/4 through 16/4 thicknesses and up to 16-foot lengths.
The company markets lumber in both the domestic and export markets, and they have the capacity to produce over 60-million board feet of Hardwood lumber per year. To better serve their customers, Begley Lumber has 740,000 board feet per charge of dry kiln capacity at their London, Ky. band mill facility.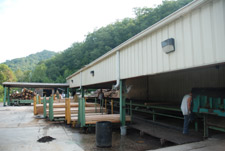 This is a partial view of the green chain and some lumber carts being filled with lumber.
Begley Lumber Co. is a family owned sawmill operation that was established in 1971.
Since 1999 the general manager at Begley's sawmill operation in Hyden, Ky., has been and is Tate Begley. "Originally I came here just to help out in the summer of '98," he explained. "My Uncle, Charles Begley, needed help at our Hyden, Ky. facility to run errands like picking up sawmill machinery parts and that kind of thing. Shortly after I got here, Charles became ill. So, basically, I've been in charge of running the mill since 1999."
Begley's responsibilities include "everything from purchasing and log procurement to actual selling, loading and shipping our lumber products to our customers." He said that about 70 percent of the firm's logs at the Hyden sawmill operation are purchased as gatewood.
The procurement team is experienced in the pursuit of raw materials from independent loggers, and contractors that are paid to log on company managed lands. "George Begley is over all our foresters such as Kevin Black and Bob Wolford. Black and Wolford work closely with my first cousin, Matt Begley, and myself. It's a collective effort. Sometimes landowners come to us and tell us that they've got some property for sale that has quality timber growing on it. Sometimes we find good quality stands of timber ourselves, but we're all in it together and we share information with one another. Our foresters always seem to get the logs we need."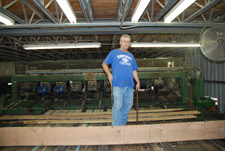 The lumber grader, Ronald Asher, is hard at work at Begley's Hyden, Ky. band mill operation.
Tate explained that the company works with about 15 loggers who source only the best Appalachian Hardwoods within a 50-mile radius of their Hyden, Kentucky band mill location. "The quality of our logs is important because from quality logs we're able to produce quality lumber. We have another log yard about 60 miles northeast of our Hyden facility in Jackson, Kentucky," he said. "Our Jackson log yard is primarily for softwoods but we do have some grade logs over there that we get trucked back to Hyden. We have a rail site in Jackson as well.
"Here at Hyden we specialize in Poplar and Red and White Oak logs so that's the species of lumber we mostly cut here. We separate the other species like Basswood, Ash, Cherry, Walnut and Hard and Soft Maple and we send those species to our headquarters in London, Ky., where they saw those species into lumber.
The owners of Begley Lumber Company had decided in December 2008 to close their Hyden, Kentucky band mill operation due to poor market conditions. However, they kept all the sawmill equipment in place and decided to reopen the mill around April 1, 2010. During that time the company continued to operate their London, Kentucky band mill facility. Presently, both mill locations are manufacturing quality Appalachian Hardwood lumber. The Hyden mill runs five days a week and employs approximately 40 people. Tate Begley mentioned that every individual at Begley Lumber is a 'key' employee. "We truly have experienced and skilled people we can rely on here at Begley like Mark Napier, who is in charge of lumber sales and dispatching," he said.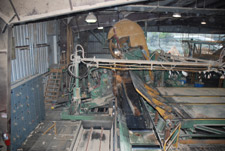 This is a view of the headrig cutting a log into lumber.
Matt Begley and John Patterson handle the majority of the Hardwood lumber sales from the company's headquarters in London, Ky. "A lot of our lumber produced in Hyden, Ky., is shipped from here to London for kiln drying," Tate said. Even our green lumber that is shipped direct from Hyden is sold mostly by Matt and John. If a buyer calls here we take the order but sales are generally handled by the two of them.
"Matt Begley is also very involved in getting the lumber out of the sawmill operation and on the truck for each of our customers," he continued. "He does it all. From talking to our customers to setting the loads up. Furthermore, he often even loads lumber on trucks himself— he's all over it. It's a team effort. Everybody works together and we depend on each other."
Rolling stock equipment at the Hyden facility includes three log loaders, two forklifts, tractors, a man lift, a skid steer loader and a crane. "We have a machine shop where we make our own parts for all of our equipment. Whether it's something in the sawmill or on our rolling stock, we service our own equipment as often as possible, especially in light of the current market conditions," Tate said.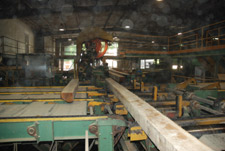 This shows the McDonough resaw cutting a cant.
Some of the sawmill equipment at Hyden includes: a Rossier debarker; a 7-foot Corley headrig and edger; an end trimmer; a Fulghum chipper; and a 6-foot McDonough resaw.
Tate explained the manufacturing process at the sawmill. "We take a load of logs that come in on a truck and we unload the truck with a Volvo 120E front end wheel rubber tired loader and we spread the logs out on the ground and tag them. Next we grade them and separate them by species and by any markings that I've personally put on them. Our Red and White Oak and Poplar logs are put in individual piles with just that one specie in each pile. If we're sawing Red Oak, our Volvo 120E operator will go to the pile of Red Oak logs, pick up a load, take the logs across the creek where they are placed in the back of the sawmill. Then the logs are placed on the log deck.
"Next the Red Oak logs are processed through our debarker and after that they are kicked over to the log deck for the headrig. The headrig will square up the log, and take off the grade," he continued. "Once the Face & Better is gone, depending on what thickness of lumber we're cutting, the lumber goes to the resaw. From there the resaw is going to saw it down to either a 6x6 for fencing, or a 4x6. Once the lumber leaves the resaw, if it's squared and if it needs to be edged, the lumber will pass through the edger, and then move on to the grading deck to be graded, end trimmed and stacked."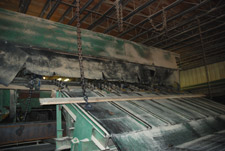 This is a picture of lumber exiting the double end trimmer.
Tate said the Hyden, Ky. facility is capable of doing up to eight different sorts by grade and thickness. "When we pull the lumber off the green chain we put it in carts and once the cart is full we will pull the cart out, forklift the package, mark it, band it and depending on what grade it is, the lumber gets set up into loads."
Begley Lumber Co. uses their own trucks as well as contract trucks to ship their lumber products to various domestic customers. "Some of our lumber is shipped to our London, Ky. facility for kiln-drying. We ship some of our lumber green directly from our Hyden, Ky. band mill operation to flooring manufacturers, or to other woodworking plants that have their own dry kilns such as trim and moulding producers, etc.," Tate explained.
No part of the log goes to waste at Begley Lumber Co. "Our cants are shipped to pallet plants, wood chips go to a paper company, we burn some of our sawdust in our boiler to produce steam for our kilns and we deliver some of the sawdust to a charcoal company, which manufactures charcoal from it. All of our bark goes to our London mulch plant.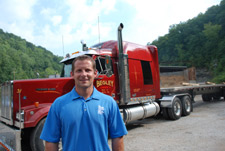 Tate Begley, who is the general manager of Begley Lumber Company's Hyden, Ky. band mill facility is standing by one of the company owned trucks that helps deliver quality lumber to their customers.
Begley Lumber Co. is a member of the National Hardwood Lumber Assoc., the Appalachian Hardwood Manufacturers Inc., the Kentucky Forest Industries Assoc., and the Indiana Hardwood Lumbermen's Assoc. For more information visit www.begleylumber.com.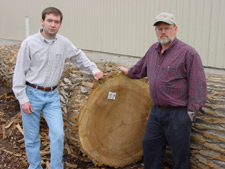 Matt Begley and John Patterson are standing by a 40-inch plus, quality Poplar log that will be cut into lumber at Begley's London, Ky. band mill operation.