Dixie Delivers Throughout Country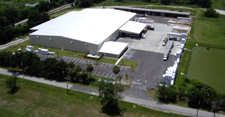 Servicing the west coast of Florida from Crystal River to Naples, Dixie Plywood's Tampa location is one of the largest independently owned and operated wholesale distributors in the Tampa Bay market.
By Michelle Keller
Savannah, Ga.–Established in 1944 by the late Waldo Bradley, Dixie Plywood and Lumber Companies headquartered here in Georgia's first city is just a couple of blocks from the high-traffic areas, almost in the center of Savannah. Situated on 36 acres of land, the company can be landmarked from a distance due to a tall water tower with the company's founding name, Bradley Plywood imprinted upon it. By leading the industry in quality, innovation and service, the firm is now among the largest independent distributors of building materials in the nation.
The first wholesale distribution center opened in Atlanta and operated under the name Ponce de Leon Plywood Co. after the street on which it was located. When the second distribution center opened in Savannah in 1945, the name of the company was changed to Dixie Plywood Company.
Now with 11 locations across the United States, each company distributes truckloads of virtually everything in the forest products industry, including specialty items for retail home service stores, lumberyards and industrial accounts. "It is our policy to remain on the leading edge as suppliers to our clients," said director of marketing and business development, Tom Heard. "We have gained and maintained market leadership by insisting on the highest standards of business integrity offering top quality products sold and delivered by carefully selected, in-house trained, knowledgeable staff. Our men and women are dedicated to standards set by the company founder, the late Waldo Bradley, Sr., and retained today by the Bradley family," he added.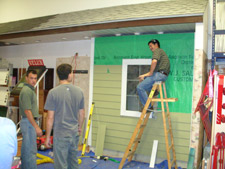 Dixie Plywood collaborates with a James Hardie siding installation training session for contractors.
Along with Heard, key employees of the Savannah-based division are co-COO Dave Wilson; co-COO Mark Gentry; Director of Purchasing Randy Collins; Director of IT Bobby Awtrey; Director of Human Resources Blanche Gann and Controller Becky Hancock.
With each operation having its own lumberyard, facilities and fleet of delivery trucks, large and diversified inventories are what Dixie Plywood (DIXIEPLY) is known for.
In Hardwoods the firm carries certified lumber in species such as Poplar, Ash, Alder, Cherry, Birch, Maple and Red and White Oak; panel products, Hardwood plywood, prefinished hardwood plywood, particleboard, medium density fiberboard (MDF), moisture resistant particleboard, moisture resistant MDF, melamine, vinyl overlay panels, hardboard and pegboard, rated sheathing and oriented strand board (OSB) flooring, and fire retardant treated panels.
Specialty items include cabinet doors, prefinished drawer sides, cut-to-size panels, particleboard and MDF countertops, shelving and slat wall, veneers, solid surface countertops, MDF mouldings, wood mouldings, interior/exterior doors, composite decking products, composite trim products, and laminated veneer lumber. "Product diversity is a fact of life around here," Heard said, referring to colleagues in Savannah as well as distribution associates nationwide.
Softwood products offered by the company include: SPF boards, fascia, dimension & studs; SYP boards, patterns, dimension and treated decking; European spruce dimension and studs; cedar boards, fencing, decking, dimension; cypress patterns and siding; fir clear boards; green Douglas fir dimension; hem-fir dimension and studs; ipe decking; ponderosa pine boards; and engineered wood products.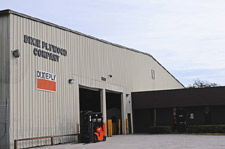 Established in 1944, Dixie Plywood and Lumber Cos. are headquartered in Savannah, Ga.
DIXIEPLY's distribution centers are managed by Bob Twaddle, Garland, Texas; Erick Forholt, Orlando, Fla.; Darryl Hackfield, Houston, Texas; Danny Bachman, San Antonio, Texas; Rollie Mowery, Tampa, Fla.; Steve Price, Atlanta, Ga.; Lou Olivera, Miami, Fla.; Dewey Evans, Riviera Beach, Fla.; Tim Naish, Charlotte, N.C.; and Gary Webb, Ft. Lauderdale, Fla.
Each facility is a unit in itself, each title belonging to its home city designation (i.e., Dixie Plywood of Atlanta, and so on). Servicing approximately a 150-mile radius, each branch manager is responsible for his specific marketplace.
At the company's Miami, Fla., location, an export department is staffed with experienced multi-lingual professionals who specialize in the Caribbean and Central America markets, but who have the capability to ship anywhere in the world.
Dixie Plywood and Lumber Co. perhaps better known as DIXIEPLY, is an innovation leader. On the company's brochure is their mission statement, notably with four objectives: 1.) To become the preferred wholesale distributor; 2.) To be on the leading edge of our industry and to provide superior, cost-effective services to our customers; 3.) To apply the highest standards of business integrity and provide a positive ethical working environment for our employees; and 4.) To be a total quality company committed to excellence in all phases of our operation.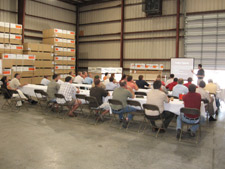 At their Tampa, Fla., location DIXIEPLY holds a class on "green" building and products. Over 80 customers attended.
By partnering with their customers, building relationships to advance their businesses, and remaining a premier building materials distributor they are undoubtedly fulfilling their mission.
Recent product additions for Dixie include Hanex solid surface materials, Chem-Metal laminates, TreeFrog veneers and Arpa laminates.
Members of many industry trade associations such as the North American Wholesale Lumber Assoc. (NAWLA), Hardwood Distributor's Assoc., Florida Building Material Assoc. and the Lumbermen's Association of Texas, the company has LEED AP (Leadership in Energy and Environmental Design Accredited Professional) representatives on staff. The firm purchases approximately 106 million board feet of lumber annually.
For more information about Dixie Plywood Co. and its products visit their website at www.dixieply.com or contact direct at 912-447-7000.