High-End Products, Customer Service Sustain Trinity
By Terry Miller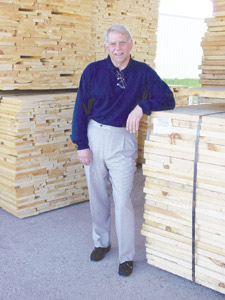 Greg Ryback is president and owner of Trinity Forest Industries Inc. in Hurst, Texas.
Hurst, Texas—Trinity Forest Industries Inc., located here, has served the wholesale lumber, plywood and millwork needs of its customers since 1982. Business has been good—so good that a second location in Albuquerque was added in 1997.
Trinity uses a wide variety of kiln-dried Hardwoods, such as Alder, Walnut, several varieties of Maple and Oak and softwood species, including, ponderosa pine, Douglas fir, sugar pine, yellow pine, Spanish cedar and even Mahogany. Thicknesses start at 4/4 and go up to 8/4 through most of the company's inventory, which includes 4/4, 6/4 and 8/4 plain-sawn and quarter-sawn White Oak. Poplar thicknesses range as high as 10 and 12.
"We do carry some 1 and 2 White Hard Maple," said Keith Cortez, who wears a multitude of hats at Trinity, including those of operations manager, sales and product manager. Trinity's Albuquerque location keeps a steady supply of Red Oak and Alder on hand, as well as some softwoods, such as sugar pine. To maximize the firm's flexibility, Trinity Forest carries as lean an inventory as possible while maintaining an average inventory of 250,000 board-feet.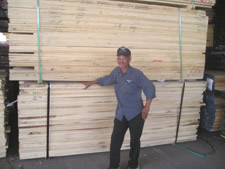 Jerry Anderson, yard supervisor, examines some Basswood stock.
"We're dabbling in a little bit of everything right now to meet whatever our clients' needs are," said Cortez. "We work with a lot of individuals in charge of stocking, of course, but we also work with window, door and furniture manufacturers, cabinetry people and even toy manufacturing individuals."
Trinity Forest has even indirectly or directly provided service for such well-known restaurant chains as Chili's, Macaroni Grill, among others.
Trinity's millwork operation includes cutting stock, center matching and a wide variety of high-end mouldings, up to 9-inch widths.

"We can take care of any pattern work that's needed," said Cortez. "If we don't have the knives already, we can produce them for the customer and can develop profiles from a detail or sample."

Trinity's orders are usually short-run, not production quantity. "If somebody wants one board run, or one piece of moulding run—as long as they want to pay the setup charges on that—we'll do it," Cortez said. "We've got two Weinig moulders; we've got a gang rip, a straight line rip, planer, sander and resaw. We can do anything from cut-to-length jobs to random length. As long as it can fit through my moulders, we'll run it."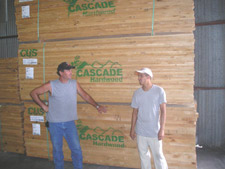 Scott Howe, assistant yard supervisor, talks with Alfredo Cardona, inventory specialist.
Trinity Forest is able to fulfill most exact orders for high-end millwork within two weeks. Like most wholesale companies, Trinity Forest Industries requires a $500 minimum order, but that minimum order can be a mix of species.
With two high-end moulders and some of the highest-grade inventory available, Trinity's reputation for quality stock and workmanship is well recognized.
The company stays in touch with the needs of area mills through frequent customer-focused road trips. Cortez acknowledges that receptiveness varies to this networking strategy, "Some people don't even want to ask the mills to do things like we do and some mills don't even want to look at it, but there are some that will." The benefit—in the long run—is that clients who may not have purchased a particular special order from Trinity Forest Industries do remember Trinity's assistance and often come back at a future time, trusting in the company's honesty and consideration for their budgets.
Trinity has one truck that runs in the Metroplex area daily. "We sometimes even send it out of town, depending on what we've got," said Cortez. "We've got contracts with truckers in Austin, San Antonio and down to Houston. We can even go into Louisiana and up into Oklahoma."
Adam Morris recently joined the sales staff at Trinity Forest.
With a multi-drop truck itinerary, Trinity includes protective packaging for its inventory of high-grade lumber products. "If we don't hear anything back from the customer (about quality after shipment), that's good – that's our goal," said Cortez.
Twenty-five employees operate Trinity Forest's two facilities. In Hurst, nine employees keep the yard and mill rolling with seasonal assistance from temporary staff. Office personnel include five sales people and two work in the administrative office. Three staff members in Albuquerque, New Mexico complete the crew.
In addition to Cortez, key personnel at Trinity include Greg Ryback, president and owner; Jerry "Dirty Red" Anderson, yard supervisor; Scott Morris, salesman and buyer; Antonio Para, mill supervisor;
Dion Ingersol, assistant mill supervisor; and Scott Howe, assistant mill supervisor. Adam Morris, Scott Morris' son, was also recently added to the sales staff. Joe Cortez still comes in one day a week so as not to interfere with his golf.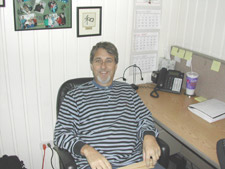 Scott Morris is a salesman and buyer for the company. Trinity Forest's core staff has over 100 years of experience in the lumber industry.
When you add up the experience, Trinity's core staff boasts well over 100 years of know-how in the lumber industry – yet another reason for the company's continued prosperity.
Trinity Forest Industries holds a variety of memberships in several lumber associations, including Western Wood Products Assoc. (WWPA), the North American Wholesale Lumber Assoc. (NAWLA) and the Fort Worth Lumbermen's Assoc. The company's new Web site is trinityforest.com. For more information, call Keith Cortez or any of the sales staff at 817-268-2441.