Oakcrest Opens Tennessee Facility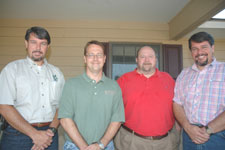 Russell Weaver, Kevin and Bobby Cloer and Roland Weaver all work to help make Oakcrest Lumber Inc. and Oakcrest Flooring the great success that both these companies are today.
By Gary Miller
Buena Vista, Ga.—Founded nearly 20 years ago by Wesley Weaver, Oakcrest Lumber Inc., headquartered here, recently added a new Appalachian Hardwood concentration yard on the outskirts of Newport, Tenn. The long-time desire to operate a facility in the Appalachian region is finally underway.
Rick Cook, general manager for the Tennessee facility, said that presently the new yard has approximately 1.5 million board feet of upper grade Red and White Oak in inventory. Other management includes Paul Baker, assistant manager, and Brad Bradley, purchasing manager for both the Georgia and Tennessee operations.
The new yard in Tennessee consists of 160,000 board feet of kiln capacity constructed by SII Dry Kilns of Lexington, N.C. A new wood-fired boiler system has been installed to provide steam to the new kilns. A total of six to 10 dry kilns are planned in the future.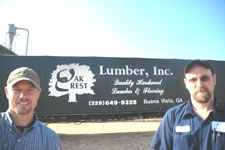 Cameron Elliott is the lumberyard manager and Jim DeBaise is the sawmill manager at Oakcrest Lumber Inc.'s Buena Vista, Ga., band mill operation.
Currently, the 35-acre facility houses lumber handling equipment including a grading chain and stacking line designed by Froedge Machine & Supply Co. Inc. of Tompkinsville, Ky. Also a new 25,000-square-foot building has been erected for grading and storage of kiln-dried lumber.
Oakcrest currently purchases green No. 2 Common and Better Red and White Oak, Poplar and Ash as well as multiple truckloads of kiln-dried each month. The flooring grade lumber is used in the company's flooring facility, and the upper grades are sold in both the domestic and export markets.
Owned and operated by Wesley Weaver and his two sons, Russell and Roland, Oakcrest Lumber Inc. began manufacturing Hardwood flooring in December 2004, during a slump in the flooring industry. Today, the company produces roughly 55,000 square feet per day of 2 ¼ and 3 ¼ strip flooring, 4-inch and 5-inch plank flooring and some pre-finished products in Red and White Oak and Hickory.
The company's state-of-the-art flooring facility in Georgia is housed in a 75,000-square-foot building, which was constructed in early 2004. Finished flooring is placed in a humidity-controlled warehouse, which is attached to the production facility.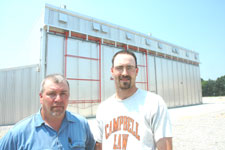 Rick Cook is the general manager of Oakcrest Lumber Inc.'s new Hardwood lumber concentration yard in Newport, Tenn., while Paul Baker is the assistant general manager. The two new SII Dry Kilns installed at this yard are in the background.
Oakcrest Lumber Inc. manufactures approximately 17 million board feet of Hardwood lumber and produces approximately 14 million square feet of Hardwood flooring annually. The Georgia facility has an average Hardwood lumber inventory of 5 million board feet and has 600,000 board feet of kiln capacity. The operation also houses a planer operation, which includes a Newman planer, straight-line rip capability and width sorting. The operation preps lumber for either domestic or export shipments. Roughly 40 percent of the firm's band mill production is absorbed by Oakcrest Hardwood Flooring, a division of Oakcrest Lumber Inc.
Kevin Cloer, vice president of sales and marketing, noted that the company has its own trucks to deliver Hardwood lumber and/or flooring products within about a 300-mile radius of the Georgia facility. Contract carriers are used for locations of further distances. All of Oakcrest's flooring products are wrapped in plastic at time of shipment to ensure proper moisture content on delivery.
"We have developed a real strong customer base with Hardwood flooring distributors and Hardwood lumber customers all over the country who have remained loyal to us in these very difficult market conditions," Cloer said. "We are known in the industry for our consistency in manufacturing quality lumber and flooring products, and maintain a strong commitment to dedicated customer service."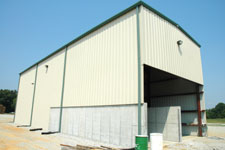 Oakcrest Flooring recently installed this new wood-fired boiler to provide steam for its new kilns.
Kevin said the hands-on involvement by the Weaver family has strongly contributed to Oakcrest's success. "They have been very effective in showing us how being personally involved in all aspects of the operation is vital," he said. "Wesley, Russell and Roland carry out the hands-on approach in our operations every day."
Wesley Weaver is president of Oakcrest Lumber Inc. He handles all purchasing of manufacturing equipment for both the Georgia and Tennessee operations, as well as doing the detail planning of all construction projects and assisting in day-to-day operations. Roland Weaver serves as executive officer to oversee the financial aspect of the business as well as assisting in day-to-day operations. Russell oversees the operational side of the flooring facility in Georgia, along with the concentration yards in both Georgia and Tennessee.
Oakcrest Lumber Inc. is a member of the National Wood Flooring Assoc. and the National Hardwood Lumber Assoc., both of which have helped increase the company's client base.
Kevin Cloer is joined in the sales department by his brother, Bobby Cloer, who also handles flooring sales and inventory control for both the Georgia and Tennessee operations. Bobby comes to Oakcrest with over 20 years of experience in the Hardwood lumber and flooring industry with experience in lumber inspection, kiln drying operations management, and sales of Hardwood flooring products. Both brothers travel throughout the country offering professional customer service to Hardwood lumber customers and Hardwood flooring distributors.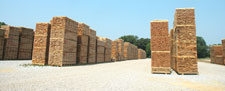 Oakcrest's new concentration yard in Newport, Tenn., will give the company access to quality Appalachian Hardwoods.
In addition to the management staff previously mentioned, key employees to the operation include Jim Debaise, general manager of operations; Cameron Elliott, assistant manager of operations; Dewayne Fulk, Dave McGhee and Jamie Bailey, flooring plant managers; Johnny Thomas, electrical maintenance; and Casey Register, industrial maintenance.
The Weaver family considers every employee key to the success of the operations. These employees are credited in providing the company the ability to offer quality products and services. The Weaver family also noted that the first credit of success is given to God.
In closing, Kevin stated, "Our Hardwood lumber and flooring products are known for quality, and we intend to do everything possible to keep that reputation. A high standard for quality and customer service have helped us greatly in keeping our products moving in this difficult market. Prices are at an all time low, and the ability to make a profit is very difficult to say the least. Hard work and commitment from all the staff and employees of Oakcrest have kept the company viable."
For more information, contact Oakcrest Lumber Co. Inc. at 229-639-9328, fax 229-649-9585 or e-mail kcloeroakcrest@windstream.net or bcloeroakcrest@windstream.net.


This is a view of the kiln-dried storage, lumber grading and lumber receiving facility in Newport, Tenn.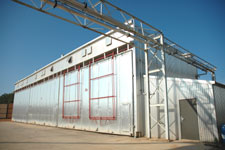 The Tennessee yard consists of 160,000 board feet of kiln capacity constructed by SII Dry Kilns of Lexington, N.C. The kilns above, which are located in Buena Vista, Ga., were also made by SII Dry Kilns.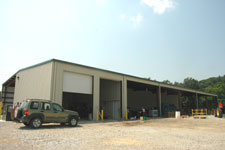 Pictured is the stacker and maintenance building at the company's Tennessee facility.