Distribution Yard To Large Mill Shop, Centennial Succeeds
By JB Morissey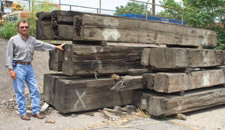 Dwight Arithson, owner/founder of Centennial Wood Co. in Denver, Colo., stands beside 120-year-old timbers, rescued from a Denver Creamery. The timbers will be transformed into custom woodwork in Centennial's mill shop.
Denver, Colo.—Dwight Arithson spent five years in the navy, flying a HH-3 combat search and rescue helicopter off the pitching deck of an aircraft carrier.
He does not fly anymore, but he is still coming to the rescue. Instead of swooping down to scoop up airmen from an angry sea, Dwight flies a desk these days, in an old, red Burlington Northern caboose at Centennial Wood Company, where he provides high quality, sometimes hard to find, Hardwood to custom home builders and woodworkers across Colorado.
Help For The Little Guy

"Thirty years ago, I saw a problem," Dwight said. "The bigger lumber companies that were in Denver at the time were not paying enough attention to the small time woodworker. If you wanted framing lumber, you could get it, but if you were working on a small, custom job and needed 20 to 100 board feet of Cherry or Maple for a custom cabinet or table, the selection was very limited. The quality of the wood was not that great, either.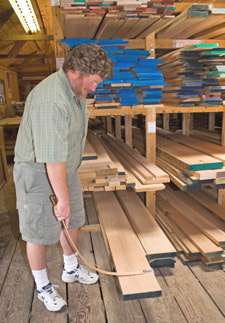 Centennial General Manager Andy Berry uses a wooden board rule to measure wood at Centennial Wood's retail outlet.
"So, I started selling high quality Hardwood out of a small, brick, one car garage behind my house. I began searching for the best looking wood I could find. Not every mill wanted to work with me because I was small potatoes. I wasn't buying it by the boxcar, I was buying much smaller amounts of rough lumber at a time, because that is what the custom furniture and cabinet makers in Denver needed to finish the project they were working on."
As business grew, Dwight bought an old, abandoned lumber yard, right beside the interstate, just south of downtown Denver. He added a milling operation and Centennial Wood Company began to manufacture milled products like baseboards, moulding, paneling, and tongue and groove flooring. Through the expansion, Dwight never lost sight of his core business, the custom woodworker who wanted the very highest quality Hardwood products for their projects.

Right Place, Right Time

In 1973, John Denver's "Rocky Mountain High" blasted from the radio. Suddenly, everybody wanted to move to Colorado. The cabinetmakers and custom home builders that Dwight worked with were being hired to build million dollar homes for the rich and famous in the ski areas of Vail, Aspen and Telluride. "Back in the 1970s, everything was Oak," said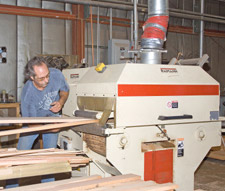 Mill Manager Jeff Wright guides a board out of the Raimann gang rip saw in the mill shop.
Dwight, "and, we still sell a lot of it today. But, the custom homebuilder in Aspen was not interested in just Oak. They wanted other woods, too. They wanted woods with character."
As demand grew, Centennial Wood Company grew, too. It became a distribution yard and Dwight started bringing in more than just Oak. Alder was shipped in from the Pacific Northwest, Maple and Birch from the Great Lakes. Oak and Cherry came from New York and Pennsylvania and Poplar and Ash started showing up from Tennessee. Dwight contacted international importers and began bringing in Teak from Thailand, Mahogany from Africa and Brazilian Cherry out of South America.
Building a Team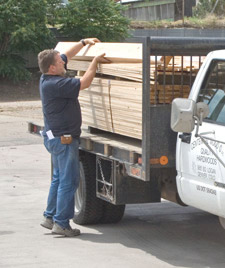 Operations Manager Joe Caven loads one of Centennial Wood Company's seven trucks as another shipment heads for the job site.
Employees come and go, but at Centennial Wood Company, many of the 20 people who work here have been with Dwight for 10, 15, even 20 years. In 1983, he hired a young man as a driver. "Andy Berry was quite a find," Dwight said. "He knew a little about woodworking and our customers loved him. So, I started grooming him to be our general manager. He is a big reason we have been so successful."
A Highway Runs Through It

As more people moved to the Mile High City, Denver's highways became one big parking lot. In the mid 1990s, a major expansion of I-25 was announced. Unfortunately, Dwight learned that his company was in the bull's eye. "The state walked in one day and told me the highway was going to cut my property in half and the highway was going to run right through my mill shop," Dwight said. "A restaurant is nothing without its kitchen. That mill shop is like our kitchen and losing it would put us out of business. So, I went to court."
It took several years and an army of lawyers, but Dwight finally got the state to see things his way. He received a generous settlement from the state and used it to open a much larger mill in a better location, two miles away.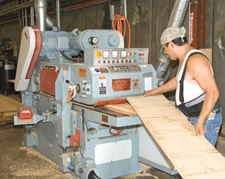 Employee Lupe Guzman feeds FAS Red Oak into the Northtech Double Helical Head Planer in the mill shop.
Room To Expand

Today, Centennial Wood buys more than 700,000 board feet of Hardwood each year from all over the world. They use 300,000 square feet of sheet goods to manufacture products in their 20,000 square foot mill shop. The planers, sanders, and moulders are busy, six days a week. Their fleet of trucks has grown to seven and they are constantly on the road, delivering high quality Hardwood products across the state. Dwight plans to add more equipment to the mill, including a chop saw defect system, a resaw, and a grinder that will turn the mill's waste wood into bedding for horse farms across the state. Centennial Wood Company has come a long way from its humble beginnings in a small,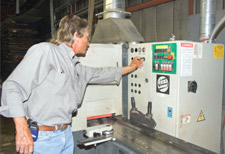 Owner Dwight Arithson prepares to run another batch of wood by adjusting the settings on the Weinig C-23 5 head moulder in the mill shop.
one car garage and it all started because Dwight Arithson came to the rescue and helped the woodworkers of Colorado who needed a few board feet of high quality lumber that they could not find anywhere else.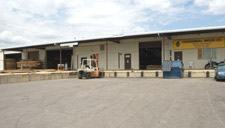 Centennial Wood Company's 20,000 square foot mill shop sits in the middle of their 80,000 square foot yard, giving it plenty of room for expansion.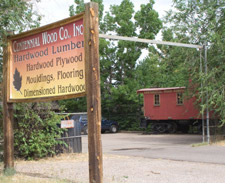 An 1876-style caboose is now Dwight Arithson's office at Centennial Wood Company in Denver.