Perfect Products, Creative Energy Drive Wm Ohs
By Brady Buffalo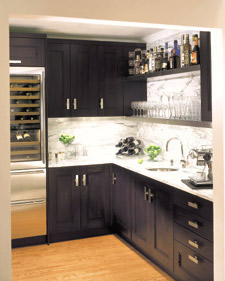 Darker stains in kitchen cabinetry are very popular now, according to the president of Wm Ohs Inc., Denver, Colo., manufacturers of four different styles of quality kitchen cabinets.
Denver, Colo.—Home designers know that the kitchen is often the room in the house that makes or breaks the sale of a home. At Wm Ohs Inc., located here, creating elegant classic kitchens made in America is the top priority.
"We handcraft kitchens—one at a time—that wed the rich, warm legacy of the past with the convenience and technology of the present," said Bob Cilli, president of Wm Ohs Inc. "We incorporate captivating design with wonderful functionality to provide kitchens for our customers that are a pleasure to use and an investment that will not be outdated five years, or even 25 years from now.
"It is all about quality and design," Cilli continued. "We specialize in completely original innovations in cabinetry construction and styling."
The company, which celebrated its 35th anniversary this year, operates out of a 50,000-square-foot manufacturing facility in the "Mile High" city. The building holds a bevy of equipment including two CNC routers, a computerized panel saw, a moulder and planer to name a few. But it is not the equipment that defines the kitchens by Wm Ohs; it is the 100-plus woodworkers on staff.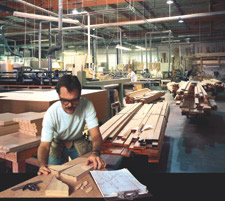 Wm Ohs celebrated its 35th anniversary in 2007, and operates in a 50,000-square-foot manufacturing facility with more than 100 woodworkers on staff.
"Ultimately, what makes Wm Ohs different is our people. We're a company whose staff members–from production workers to journeymen-craftsmen to office personnel, managers and designers–take pride in providing the highest quality work," said Rick Casey, vice president. "Together, we subscribe to the philosophy: Nothing is more affordable for Wm Ohs to give its customers than quality, and nothing is more costly to the company than to withhold it."
Every cabinet is hand made and hand distressed, which requires time and skill.
"At our factory the project begins when we receive the professional kitchen designer's order and technical drawings. We have 28 showrooms throughout the United States. In turn, through back and forth e-mails, faxes and phone conversations with the designer, Wm Ohs customer service and engineering personnel thoroughly dissect the kitchen designer's order into its multiple elements, finally developing actual cutting, finishing and assembly directives for the factory," Cilli said.
The course of quality begins with the choice of suppliers of the various wood species, according to Casey.
"We then segregate the wood into clusters of uniform color and compatible grain pattern so each lot will stain with consistency," he said. "During the process of manufacture, the moisture content of the wood is also monitored and controlled."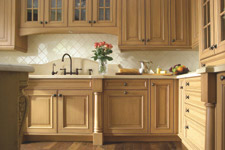 Every Wm Ohs cabinet is hand made and hand distressed, which requires time and skill.
Quality is manifest, too, in the precision sizing of milled cabinet parts, which fit into various assemblies like the special "Bombé-Fronted Furniture" pieces. The charm of these pieces may mask this precision, but accuracy is always present.
Hidden details are just as important at the company. For example, in addition to the common "mortise and tenon" joinery of the cabinet doors, Wm Ohs adds dowels. Center panels "float" within the mortised cabinet door frames and are allowed to expand and contract, as wood will do, with changes in humidity.
To manufacture its cabinets Wm Ohs utilizes about 2 million board feet of Hardwoods annually. The company buys Alder, Cherry, Oak, Mahogany, Walnut, Maple and pine.
"The darker stains are very popular right now, so we are not buying as much Maple because it does not stain as well as the other species," Cilli said. "We mostly purchase from wholesalers."
Wm Ohs manufactures four different styles of cabinets. Theme Stylings is the Wm Ohs original and flagship cabinet program. It is a multiple-style collection of artfully detailed kitchens inspired by timeless furniture traditions from Europe and America.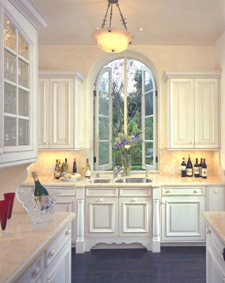 Valuable hidden details in Wm Ohs' manufacturing process include the addition of dowels to cabinet doors to complement the traditional use of mortise and tenon joinery.
Renaissance, the company's most refined cabinet program, is the genesis of classic new ideas and aesthetic detail in traditional kitchen styling. Renaissance is expressly designed with specific classic details that compliment especially elegant traditional homes.
The Architectural series is an attractively priced, made-to-order cabinet program that allows the kitchen designer to create a multitude of individualized door stylings in several wood species. Wm Ohs Architectural Series offers a wide selection of hand glazed finishes including customized finishes. This is the Wm Ohs 'style-your-own-door' program of generally simpler and more economical details.
And finally, Transitions is the newest Wm Ohs cabinetry program. It represents a departure for a company previously known only for its traditional design specialty. Transitions is a venture into the soft contemporary side of clean, but beautifully crafted and finished wood cabinetry.
When Bill Ohs started designing traditional kitchens, he thoughtfully studied the manner in which people use their kitchens today. And as he studied, he developed the concept of four basic kitchen furniture elements that anchor the classic kitchen room: the hearth, table island, pantry and hutch. Of course, each element is designed and manufactured at the plant.
William Ohs founded the company in 1972 in a three-car garage shop. He began his business handcrafting custom built-in libraries and casework for residential customers. Over the years, this residential product focus shifted to manufacturing premium theme-styled kitchens.
As an industry pioneer, Ohs developed a unique method of casework construction using European, frameless 32mm system techniques to create traditional furniture appearances without the unsightly aspects of modularity.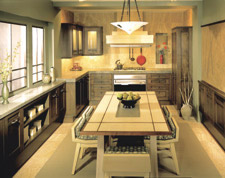 Wm Ohs uses about 2 million board feet of Hardwoods annually in the manufacture of kitchen cabinets.
He also sought to infuse his work with the appearance of antique furnishings, and quickly became known for techniques for aging woods and for applying glazed furniture finishes.
Ohs combines the quest for product perfection with a persistent creative energy. This enthusiasm translates into the company's foundational vision: "To provide customers with the most elegant, classic kitchens made in America."
And that vision allows for slow steady growth.
"We aim for about a 10 percent to 15 percent growth per year," Cilli said. "Also, new products are always being evaluated and launched.
For example, the company recently launched a new custom closet line that features the company's exceptional quality of workmanship and hand-crafted design. Responding to customers' requests for custom closets, Wm Ohs now offers closet cabinetry to complement the styling of the company's existing kitchen, bathroom, and vanity cabinetry.
The new Wm Ohs closet line is available in every wood, finish, and design that the company currently offers, including their popular Tuscan, English, and French Country styles.
As kitchens continue to be the most important room in the home, and Wm Ohs Inc. keeps quality handcrafted products as its backbone, the company should enjoy many more years in the industry.